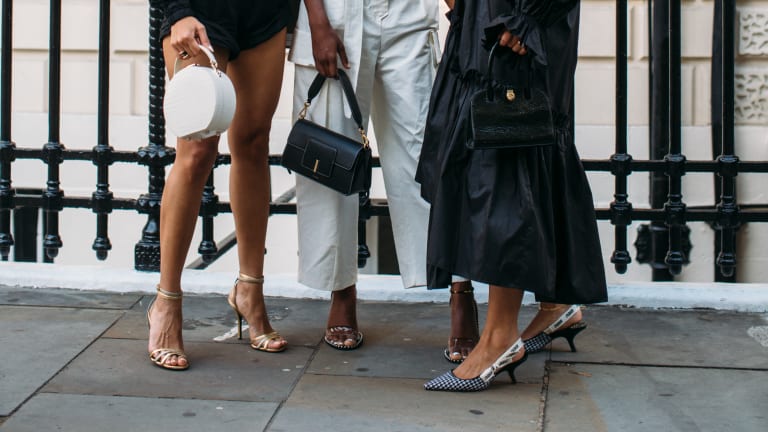 Is It Even Possible to Be a Sustainable Influencer?
A number of Instagram personalities in the ethical fashion space are pivoting away from pushing product, even as sustainability becomes buzzier than ever.
Ellie Hughes isn't a fan of the term "influencer," even though she knows she's one by most measures.
On Instagram, Hughes has 10,400 followers, a number that places her squarely in the realm of "micro-influencer" — one step above "nano-influencer," which influencer intelligence platform Klear defines as having between 500 and 5,000 followers, but roughly 20,000 followers short of "power influencer."
The Portland, Oregon resident began blogging — and influencing — in 2016 after deciding to purchase only ethically produced clothing. For three years, she chronicled her discovery and support of brands such as Everlane, Nisolo and Vetta to present to her readers a "better way to buy" without supporting exploited labor, landfill waste or air and water pollution. Soon, companies were sending her free products in the mail, which gave her a thrill. She started working with some of them directly to create sponsored posts, which paid her for her efforts — also exciting. Affiliate links, which rewarded her whenever someone made a purchase on her recommendation, trickled in more cash. In time, Hughes was making enough that she flirted with the idea of turning her blog Selflessly Styled into a full-time job.
But earlier this year, Hughes experienced a minor crisis of self. She realized these advertorials were the only content she had time to make. Hawking new products, she says, "quickly took over," which meant less time educating her audience about the unsavory underbelly of the fashion supply chain. With household consumption accounting for 72% of global greenhouse gas emissions, it dawned on her how unsustainable promoting continuous consumption was, no matter how "conscious" or "ethical."
Related Articles
2019 Was the Year Sustainability Finally Burst Into the Fashion Mainstream
Influencing With a Conscience: How Some Influencers Are Changing the Industry for the Better
Do We Really Need Any More Sustainable Fashion Brands?
So in August, Hughes made another pivot, this time to reject all free clothes and paid collaborations. 
"I just needed to evaluate what my work would look like if I had nothing to gain from it financially," she says. She was thinking of the bigger picture, too. "When you're promoting new stuff all the time, I think it sets the standard for the average consumer that they continually need to accumulate," she adds.
The tension between conscience and commerce is nothing new. Neither is the idea that conscious consumption, as a concept, is fundamentally flawed. Less clear is whether you're still an influencer if you're not, per the Cambridge English Dictionary, "describing products and services on social media [and] encouraging people to buy them."
Either way, Hughes isn't alone in taking a stand. A small yet growing contingent of sustainable fashion influencers are questioning if "merching" runs counter to their social and environmental ethos. Some, like Hughes, are shunning brands for their own closets or thrift-store finds. Others, like writer-stylist Aja Barber (@ajabarber), derive their revenue primarily through membership-based platforms like Patreon, where fans can donate to access exclusive content. One influencer, Hannah Neumann (formerly @lifestylejustice), even quit Instagram to establish a fair-trade factory in the Philippines. More may be wrestling with the cognitive dissonance of touting clothing or shoes people don't necessarily need, even if they don't talk about it.
"I think we want to believe we're an exception, that we can promote products and wear more clothes because it's our job or an extra source of income," says Canadian influencer Alena Tran (@allyctran), who told her 14,000 followers in September she was shifting away from brand collaborations. "But I am confident many of the sustainable influencers you see have an uncomfortable internal dialogue about it."
It's unclear how influencing translates into concrete sales, though one study claims one in five Americans have purchased a product or service because an influencer recommended it. The nebulous notion of "awareness" is even harder to pin down, though not for lack of trying. Nevertheless, influencer marketing is a lucrative business, one poised to reach $10 billion in 2020, according to some estimates. Instagram is the most popular medium for influencers, according to Klear.
Nick Cooke, co-founder of influencer marketing firm The Goat Agency, says brands use influencers as a form of third-party endorsement. People are more likely to trust customer testimonials over marketing copy, and if that customer is someone they know — even through the parasocial lens of social media — they're all the more believable.
"Third-party recommendations have always been the most effective thing for any company trying to draw sales," he says. 
There's a downside to this, of course. Influencing is becoming an overcrowded marketplace, which engenders its own set of problems. Even as sponsored posts on Instagram have soared, so have engagement rates fallen. They now hover at 2.4%, down from 4% three years earlier. With so many influencers jockeying for a piece of the same pie, judgments can sometimes become clouded and slopes more slippery.
"There are influencers who probably have their hearts in the right place but don't truly grasp the enormity of the climate emergency," says writer and speaker Bel Jacobs, a coordinator for Extinction Rebellion's Boycott Fashion campaign, which is urging people to buy no new clothes for a year to curb greenhouse gas emissions. The fashion industry is responsible for 8.1 percent of the world's global greenhouse gas emissions, more than all international airline flights and maritime shipping trips combined. "Buying anything new or making anything new seems quite odd," Jacobs says. "Every time you turn on the electricity for a sewing machine you're contributing to the climate emergency; you can't help it."
The system is self-policing insomuch as modern-day consumers are quick to sniff out inauthenticity. The model-actress Cara Delevingne, for instance, recently caught flak for billing herself as an "Earth protector" on the one hand and collaborating with fast-fashion brand Boohoo on the other. (Delevingne's publicist did not respond to requests for comment.) 
"People are sick of being sold to but they prefer to be sold to if the product is right and relevant for them," Cooke says. "The worst thing is being lied to."
When Hughes started Selflessly Styled, she saw a vacuum she could fill. Now, the sustainable fashion space is inundated with shopping guides, product hauls and #OOTDs. "There's not a lot of people just saying, 'Well, here's how you can just shop less, here's something else you can do with your time, here's where you can repair your clothes,'" she says.
Benita Robledo (@benitarobledo), who has 27,300 followers, arrived at a similar conclusion a year ago, when she felt the same sensation that led her to ditch TV commercials as a young actress. 
"The more I learned about sustainability and how the biggest thing we can really do is just to consume less, I got the same feeling I had had years before where it was like, 'I don't feel good about this,'" she says. "As good as these individual companies may be, I just don't feel comfortable supporting this much consumption." 
Today, Robledo showcases mostly thrifted and secondhand ensembles on her Instagram, though she may occasionally feature a company owned by a marginalized community, such as the Wayuu tribe of Colombia.
An influencer who switches gears can sometimes throw followers for a loop, for better or worse. Robledo says her engagement numbers have fallen, though the conversations she has with her remaining community have become "much more meaningful, authentic and deep." She's delving into sewing and mending and "people are really excited to talk about that stuff."
Robledo still sees herself as an influencer — just one who is decoupled from the consumerism treadmill. She fields DMs from her followers who tell her about items they've bought secondhand. Like a proud parent, Robledo responds with equal elation. 
"That's a kind of influence," she says. "I'm just no longer making money for corporations." To pay the bills, she works at an herbal apothecary and a bookstore in Pennsylvania.
While Hughes, Tran and Robledo say they've found something that works for them, they're by no means judging influencers who choose a different route. Robledo, for one, recognizes there are people who could use the product information more traditional sustainable fashion influencers provide. It's just not a model she wants to devote her time to. And Jacobs says she understands the part traditional influencers play in "this transition stage, where no one's perfect."
Certainly, influencers have played a "non-negligible role" in the growing interest around sustainability, says Morgane Le Caer, fashion insights reporter at Lyst, an e-commerce aggregator that tracked a 66% uptick in searches for sustainable fashion — including the use of sustainability-adjacent keywords such as "ethical brands" and "vegan fashion" — since 2018.
"Whether intentionally or not," sustainable fashion influencers have been "slowly educating their communities by openly talking about the subject, pivoting toward pared-down 'capsule' wardrobes and showcasing sustainable brands on their social media feeds," she says.
In a similar vein, the use of the hashtag #sustainablefashion has quintupled on Instagram since 2016, according to French analytics firm Heuritech, which reviewed 25 million posts and 400 hashtags employed by U.S. and European users over the past three years. Influencers drove the conversation and therefore the trend, according to Célia Poncelin, head of marketing and communications at Heuritech.
"There is definitely a balance that has to be struck," says Besma Whayeb (@besmacc), who blogs at Curiously Conscious full time and is the founder of the digital community Ethical Influencers. Before she works with a company, she has to be a potential buyer of its products. Whayeb says she regularly rejects brands that don't embody sustainability holistically, such as the alcohol company that wanted to fly her from London to Copenhagen to show off its new sustainable packaging or the clothing brand that employed recycled polyester but churned out a collection a week.
"It can be difficult because you want to support people doing things in a more positive way, but at the same time, if they're not quite up to scratch with your own ethics, I think it's important to stick to your guns," she adds.
Either way, not everyone can afford to do this work for free, nor should they be expected to, Whayeb says. Plenty of ink has been spilled about "emotional labor" and how women — and especially women of color — are expected to do it only out of the goodness of their hearts. Such an ask is hugely problematic. The work of influencing — snapping photos, writing, promoting — takes "a lot of planning and a lot of work," she adds. "And that needs to be paid for."
There are other considerations: Hughes knows she has been able to turn away sponsors because she has a day job, working in marketing at a kombucha company. She acknowledges it's her privilege as a slim, white, blonde woman that not only allows her to earn a living but also reject paid opportunities. (Tran is also white; Robledo is of Mexican, Colombian and European descent and identifies as mestiza.) In an effort to redress the imbalance endemic to the industry, she's been using "what little power and influence" she has to steer businesses to influencers of color. 
"I think that those are the people who should be getting the brand collaborations right now," she says.
Indeed it's telling that the people who pledge never to buy anything new ever again — like actors Julianne Moore and Jane Fonda — tend to be white and moneyed. They don't need to replace anything because they can afford to buy clothing that doesn't need replacing.
"They have the luxury of doing that because they've had the opportunity to accrue so much over whatever lifespan they've had up to the point," says Kathleen Elie (@ConsciousNChic), who works in New York. "Having an awareness that everyone is not there and everybody doesn't have the same socioeconomic background is very important."
For Elie, who has 23,800 followers, the most common questions she gets are "Where do I shop?" and "What do I buy?" She promotes only products that reflect her values — and the values she believes her readers possess but haven't been able to manifest because of a lack of information. People will shop anyway, and "thinking no one needs anything is a very privileged way of thinking," she says.
When it comes to sustainable fashion, the important thing, Elie says, is for people to be open to conversations with nuance.
"Having an open mind is very important," she says. "And understanding that every vantage point will not be the same."
Hughes believes there's room for a new definition of "influencer," however. True influencers, in her opinion, are people like Aja Barber, Hannah Neumann and Fashionista's own Whitney Bauck, who engage with fashion on a "much deeper level" by interrogating issues such as environmental justice and racial disparities.
"Maybe we just need a new word for it," she says. 
Photo: Imaxtree
Stay current on the latest trends, news and people shaping the fashion industry. Sign up for our daily newsletter.