How to Care for Your Sweaters so They Last You a Lifetime
Your go-to knitwear care guide.
Remember when you bought that really expensive sweater and justified it by saying something along the lines of: "It's an investment piece! I'll wear it forever!" But, after just a few months of wearing that same sweater, it may have begun to pill, has accumulated a ton of embedded cat hair, or simply smells like you wear it a little too often. We've all been there.
But, just because your knitwear is in a dingy state, doesn't mean you need to donate it just yet. There are a few tips and tricks you may want to try first. We've compiled all the laundry do's and don't's of knitwear care, as well as some of the best tools to give you an extra helping hand. (But note: Everyone has differing opinions on how to care for certain sweater materials, so, of course, always remember to check the care label first as instructions may vary.)
For most materials
First and foremost, keep your sweaters off those hangers. Most sweaters should be folded to avoid stretching, drooping and creating shoulder dimples. When washing your sweaters, always be gentle. No matter how expensive it was, your sweater will probably start to pill after a few wears. Refrain from picking those pills off with your fingers! There are so many tools out there (some of which are linked below) specifically made for de-pilling, like electric fabric shavers, sweater stones and fabric combs. 
Related Articles
7 New Knitwear Brands That Will Upgrade Your Winter Wardrobe
11 Distressed Sweaters Guaranteed to Give Your Fall Wardrobe a Cool Edge
Back to Basics: How to Prep Your Suede and Leather Boots for the Winter
Wool
Thankfully, wool doesn't need to be washed often as it's a bit of a hassle. Instead, let your wool items air out after wearing and before putting them away in your closet. The lanolin found in wool is antimicrobial and odor eliminating, so this is actually more effective than washing to remove odors. For small stains, blot with cold water or treat with a wool-specific shampoo. Wearing an undershirt beneath your sweaters can lengthen the amount of time between washings. While your care label may say "dry clean only," wool doesn't necessarily need to be dry cleaned as the solvents used can be harsh on the material. Hand washing is your safest bet. To hand-wash, use lukewarm water with a wool-specific detergent. Gently agitate, then soak for 10 minutes. Rinse with cool water until the water is no longer soapy. Instead of using the dryer (which will most likely turn your sweater into a children's size) or ringing excess water out, roll the sweater inside of a towel. Lay flat to dry and reshape it while damp if it has shrunk.
To machine-wash, turn your sweater inside out place it inside a mesh bag. Choose a gentle cycle, lukewarm temperature and low spin speed. Again, use wool-specific detergent. Dry flat and reshape in the same manner described above. Use a steamer instead of an iron to release wrinkles — the steam will sanitize your wool at the same time.
Cashmere
Cashmere care is actually fairly similar to wool care. Just like wool, you can wear cashmere a few times before needing to wash it, airing out for 24 hours before wearing it again. Once again, wearing an undershirt can help, as can using a re-wear dry wash spray to refresh the smell. While most people recommend dry cleaning cashmere, the harsh solvents can break down the fabric's delicate fibers over time. Because cashmere is such a delicate yarn, again, opt for hand-washing.
Gently wash and soak in cool or lukewarm water with a cashmere-specific detergent. Rinse until the water is no longer soapy. Avoid fabric softener as cashmere naturally becomes softer over time. Similar to wool, roll the sweater inside of a towel instead of wringing out excess water. Lay flat to dry and block the garment to your desired shape. Opt for a steamer instead of an iron.
Cotton
Cotton is a fairly easy material to wash and can be washed often. It's important to do so with like colors, so be sure to sort your laundry. Be sure to turn your sweater inside out to avoid pilling. Choose a gentle cycle, mild detergent and cold temperature. Because cotton wrinkles easily, throw your garment in the dryer for a maximum of 10 minutes, then remove and lay flat to continue drying.
Synthetic
We all buy cheap synthetic sweaters sometimes — they include acrylic, polyester, rayon, nylon and anything man-made. Hand-washing is usually the safest method for these pieces. Do so with a gentle detergent and lukewarm water. Rinse with cool water and do not wring. To machine wash, turn inside out and place inside a mesh bag and use a gentle cycle at a low temperature and low spin speed. The plastic fibers are very susceptible to heat, so skip the dryer and iron. Thankfully, synthetic fabrics usually dry quickly, so just lay flat to dry. Use a re-wear spray to refresh between washes.
Click through the gallery below to check out some handy tools to help you keep your winter sweaters fresh.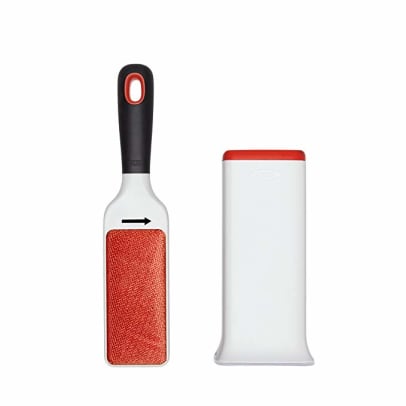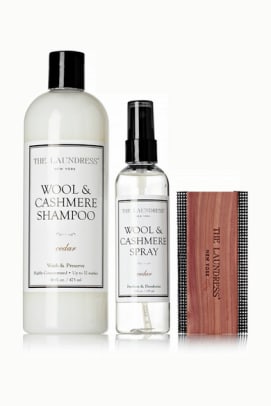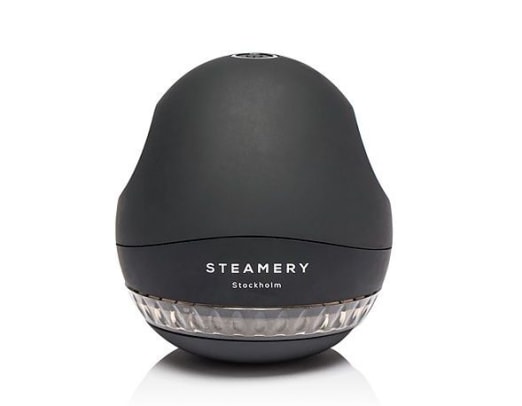 Never miss the latest fashion industry news. Sign up for the Fashionista daily newsletter.