'Waterless' Formulas Are Making Beauty Products More Potent and Sustainable
They're part of a growing trend.
Here's a scary fact: By 2025, 1.8 billion people will be living in countries with absolute water scarcity, while two-thirds of the world's population might be living under water-stressed conditions. Considering water is crucial in maintaining life on Earth, it's kind of important we try every effort to conserve it, no?
The beauty industry seems to think so. In the last few years, big-name beauty companies including L'Oréal, Unilever and Procter & Gamble have made it their mission to significantly decrease water consumption in an effort to preserve this endangered and vital natural resource. While these major beauty corporations are trying to reduce their carbon footprint by decreasing water consumption, other, smaller brands are boycotting water use altogether by creating completely waterless formulas. "'Waterless', 'water-free' or 'anhydrous' beauty refers to products that are free from water, using soothing botanical ingredients and nourishing oils instead to create more potent solutions while diminishing the need for preservatives and unnecessary fillers," says Kili Anderson, co-founder of Skin and Senses.
According to Tina Hedges, founder of Loli, most skin and body products contain anywhere from 80 to 95% water, while hair shampoos, conditioners, shower gels and even facial toners can contain as much as 95 to 97% water. "Just turn any beauty product around and check out the ingredient label — if you find the word 'aqua' as the first ingredient, it most likely signifies that the product is mostly made of water," says Hedges.
This means that the products, and the active ingredients that the brand is marketing to consumers, are mostly diluted and therefore, less effective. "And because you have water, which can breed bacteria easily, most likely the product [contains] chemical preservatives and lots of other synthetics to give it varying textures, colors and scents," explains Hedges.
Related Articles
Beauty Brands Are Finding Innovative Ways to Reduce Packaging Waste
Inside a Global Beauty Brand's Mission to Invest in the Workers Who Make Plastic Recycling Possible
'Wild' Skin Care Is an Emerging Trend Seeking to Clarify the Natural Beauty Category
Using water as a filler comes at a low cost for corporations, but a high cost for the health of the planet: "Since water is a fairly cheap ingredient and can act as a filler, it allows beauty companies to use less of the more expensive active ingredients and to sell the product at a cheaper price," says Hedges. "For a waterless brand like Loli, it's more expensive to opt for high concentrations of potent organic ingredients."
The more water a product contains, the more preservatives it probably has to keep bacterial growth at bay. Parabens are preservatives that are used in skincare, body care, cosmetics and many other products, and help to hinder the growth of microorganisms. Although "parabens give products a longer, more stable shelf life, [they're also] connected to a lot of illnesses and health problems," says Anderson. "By removing water, we don't have to use any preservatives."
Without water, beauty products are less likely to run into bacterial growth issues, meaning they're longer lasting, too. "The absence of water from a formulation can increase shelf stability, especially of a product that consists of natural ingredients conventionally formulated with primarily water," says Kailey Bradt, Founder and CEO of OWA Haircare. However, "moisture is a breeding ground for mold, yeast and gram-positive and negative bacteria, which a user cannot see, and as consumers request little to no preservatives in formulations, it's difficult to claim an all-encompassing broad statement that a waterless beauty product will last longer."
Contamination aside, the concentration of waterless beauty products are what hold weight and longevity, and may actually be better for skin and hair than traditional products. "A waterless beauty product is more concentrated and, in most cases, more powerful," says Susan Carter, co-founder of Carter + Jane. "The overuse of water...can really dry the skin by stripping away [its] natural oils — drinking water is a great way to keep skin hydrated, but you don't need it in your products."
Hedges agrees, noting that water-based products oftentimes remove the protective natural oils from skin as the water evaporates. "Then you're left with all the synthetic emulsifiers, chemical colorants, toxic fragrances and preservatives that are added to your water-based skin care, and your skin becomes sensitive, red, inflamed, flaky and can even start breaking out," she says.
Transitioning to waterless beauty might come as unchartered territory for many, and while it might take time to adjust, it can also potentially help to decrease users' carbon footprints. Because the products are sold in more concentrated, compact packages, they can significantly decrease the amount of materials needed to house them (read: much less plastic!). What's more, shipping waterless formulas (which are lighter weight than their water-filled counterparts) requires less space and therefore less fuel. It's these seeming fringe benefits that actually have the potential to make a real impact.
"Like any new routine, it takes time to get used to a new way of thinking or doing something," explains Hedges. "We've gotten so complacent cleansing with disposable wipes, for example (that end up in landfills!), or happy with our millennial pink, water-based soapy cleanser that's over-packaged in plastic."
Going waterless means swapping convenience for global conservation. "With something like a powder face mask, there is more work on the user's end than dipping fingers into a jar and wiping a mask onto their face — it requires getting a bowl, adding water or other liquid ingredients and mixing together the mask before application," says Bradt. "It may be inconvenient, but you can look at it as though you were cooking a meal at home with fresh ingredients versus grabbing some prepackaged snacks from the cupboard."
While we are starting to see a boom in water conservation throughout the beauty industry, every expert I spoke to agreed that this is not just another fad. "Waterless beauty is the future, it's not a trend — I see waterless beauty being the new norm," says Bradt. "We are seeing the fall of fast fashion, and we will see the same drop in fast beauty, as consumers want high-quality products that are sustainable and make a tangible difference in their routines."
Rex Chou, founder of Ghost Democracy Skincare, agrees, but cautions to watch out for "water replacements." "The future is bright for waterless beauty, as long as other proven active ingredients are involved," he says. "Waterless beauty that just replaces water as a base with 'cucumber water' or other infusions that have no proven effect is equally detrimental to the industry as overpriced alternatives."
Serums, perfumes, toothpastes, face masks, mouthwashes and conditioners are just a few of the beauty categories experts say will go waterless in the next few years. "The waterless beauty revolution will only happen if brands create easy-to-use products that work as well as, if not better than, the water-filled products [consumers are] used to," says Bradt. "We're asking product formulators to rethink everything they think they know about formulating a product and rethink their product development process entirely."
For those looking to eliminate excessive water usage from their beauty routines, there are a few simple ways to get started: Choose oil-based products over water-based ones, and opt for solids or powders whenever possible. "In my personal life, I try to turn off the water tap when brushing my teeth, cut back on showers, wash and style my hair less frequently, use soap and waterless products instead of liquid products containing water, and I also recycle," says Linda Treska, founder of Pinch of Colour. "Nothing will change overnight, but each effort brings us closer to a more eco-conscious way of living, and our efforts will guarantee a better future for our children."
Ready to test the waterless-beauty waters? Check out some of our favorite picks below.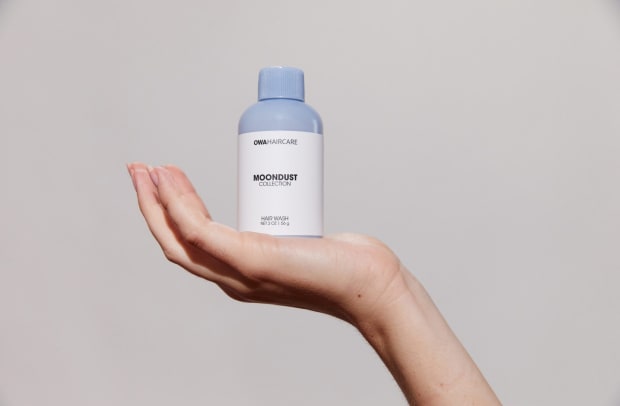 Please note: Occasionally, we use affiliate links on our site. This in no way affects our editorial decision-making.
Stay current on the latest trends, news and people shaping the fashion industry. Sign up for our daily newsletter.