See the Best Hair and Makeup Looks From the 2020 SAG Awards
These were the not-to-be-missed beauty looks from the red carpet.
The 2020 Screen Actors Guild Awards were the latest Hollywood event to draw scores of A-listers to the red carpet. While they may not be as hyped as the Oscars or as as fashionably zany as the Grammys, the SAGs proved to be an occasion with plenty of interesting things going on, sartorially speaking. (See every look here for evidence.) But it wasn't all about the gowns: Celebrities brought plenty of stellar hair and makeup looks to the red carpet, too.
Take, for example, Logan Browning (shown above) — the actor wore her natural hair pulled into a romantic updo, complete with delicate edges; then she went monochromatic with her makeup, matching both her lips and eyes to her rosebud-hued dress. Nathalie Emmanuel and Lupita Nyong'o each wore their curls pulled into updos as well: Emmauel's tendrils cascaded from a soft topknot while Nyong'o's sculptural style felt simultaneously retro and modern. Then there was Charlize Theron, who rather delightfully zhuzhed up her pixie cut with a sleek, center-parted silhouette and a rhinestone-adorned center part. (She joked the gems were there to distract from her grown-out roots.)
All in all, the SAGs brought more than a few beauty looks worth taking a second glance at — click through the gallery below to see our 12 favorites.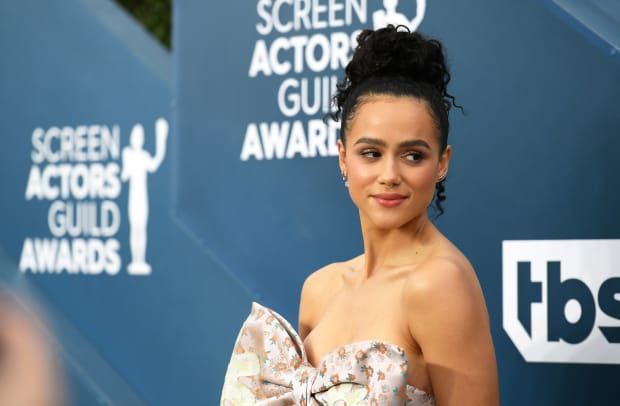 Stay current on the latest trends, news and people shaping the fashion industry. Sign up for our daily newsletter.