Beanie Feldstein Is Bringing the Fun Back to the Red Carpet
Stylist Erin Walsh tells us about working with the "Booksmart" star.
Beanie Feldstein has become one of those celebrities you look forward to seeing on the red carpet not only because she seems delightful in interviews, but also because she wears fun, interesting clothes: a poofy-sleeved, printed-organza Simone Rocha dress with a beaded hair clip, a custom white Miu Miu shirtdress with matching Mary Jane heels, a regal off-the-shoulder Oscar de la Renta gown with a braided Baublebar headband. And she seems like she's having a goddamn blast with it.
Feldstein's been working with stylist Erin Walsh since early 2019, when she was brought in to help her with her wardrobe for South by Southwest (where her film "Booksmart" would be premiering). "We fell into each other — she was actually going to be working with somebody else and they canceled," Walsh tells Fashionista over the phone from L.A. "I had one day to pull together my first fitting with her. Literally, it was one of the easiest, most fun fittings I've ever had."
"Always, your first time working with someone, you want to make sure you understand people's insecurities, their comfort zones, the designers and eras and colors they might gravitate towards," she continues. "But gosh, with Beanie, it really felt so organic — she came to the table just completely open and wanting to have fun. She is just so game for it and I think that's why it works so well."
The two have been collaborating ever since, through the "Booksmart" press tour and the subsequent awards season, plus other appearances — like when Feldstein flew to Paris for Miu Miu's Resort 2020 show.
"She's just so kind and easy and sweet and open and totally confident. In terms of dream clients, she's just such a wonderful collaborator, has the best ideas, is willing to try anything, totally trusts me, likes to experiment and likes to have fun," Walsh says.
Right out of the gate, the looks Walsh and Feldstein put together were colorful, bold and playful: At South by Southwest, the actor wore a purple, metallic Batsheva dress and a custom ballon-sleeved Markarian gown. "In general, we're just trying to have fun and keep it always very polished and elevated and chic, but also really exploring the whimsical, the very fashion-forward, the interesting color assortment and accessory component," the stylist explains. (Walsh says her four-year-old daughter is a fan of Beanie's selects: "She definitely was putting all [the accessories] on at our Globes fitting.")
"It should be fun," Walsh adds. "The world's a mess. Like, 'Alright, let's have some fun with our clothes. Bring some joy to people.'"
Related Stories:
Why Annie Clark of St. Vincent Looks Like No Other Rockstar Out There
Kristen Stewart's Stylist Breaks Down Her Chanel Looks From Cannes
With Vintage Style and a Love for High Fashion, Kacey Musgraves Is a Different Kind of Country Star
Walsh describes their process as a "total collaboration," and not something she can really quantify or break down into numbers: "Over the years, I've found that with clients who we really just jam, a lot of times our ideas are the same. When we were talking about headbands for Globes, literally she was like, 'That's exactly what I was thinking.' And with the earrings too — it's very seamless and fun."
Feldstein's recent red-carpet appearances have gotten a lot of attention (and praise) on social media for all the aforementioned reasons, plus because of how refreshing it is to see a non-sample-sized actor embody them on the red carpet. Though size is something that comes up — and that she's aware of the gaps that exist in the market — Walsh says her focus is on "creating a moment and a look, whatever the size."
"Whether you're a size zero or not, a sample or not, it's about proportion making sure things fit properly and also making sure that the way things fit really highlights your best features and makes you feel most confident and comfortable," she says. "That has a lot to do with tailoring — we do have some great tailors that we love to work with and they're incredibly important and always inspire us too, [making] suggestions about fit or adjustment. But it has never been like, 'Let's shift the paradigm in terms of dressing for a certain size.' And I think that's due to the fact that she's just an extremely confident and joyful person."
Walsh's approach to styling, fashion and life more broadly, she continues, is "to keep looking for the joy, keep looking for the new, keep finding new ways to dream — whether that's a silhouette, a new designer, a new texture, more color and overall keeping in mind that it's not in my interest to just go batshit crazy without a narrative. I think you want something that manages to be consistent and streamlined and evolving and polished. Within exploring the funkiness and fun ideas, it's important to me for it to feel elevated, always."
Feldstein's look for the 2020 Golden Globes was a big moment for both her and Walsh. "[Garcia of Oscar de la Renta] is a dear friend and he's done many beautiful creations with me over the years [but] this was the first time he'd done something with her," the stylist explains. "He was our first and only choice for the Globes. The idea range definitely started from a wider pool, but I really tip my hat to him in this particular case because he really wanted to push for navy and thought that that would be kind of a regal, defining feature at this moment in time. And he was right on the nose."
Walsh describes Feldstein's style as "very feminine-eclectic. It's an irreverent, whimsical and yet polished take on a cool, young lady. I think Miu Miu was very emblematic of [that] — we love working with them." And of what she's learned from her client, the stylist says "it's so simple: It's just like gratitude and joy."
She goes on: "She has a wonderful light to be around. If all of us were projecting that more of the time, I think we would definitely have some more light in the world. I'm very conscious of having this platform, this voice, and working with people who I think are inspiring and resonate with people in a hopeful way, and she's the manifestation of that. She's just wonderful and I couldn't adore her more. There's so much more from her to come into this world, so that's also very exciting."
See more of Feldstein's best looks, below.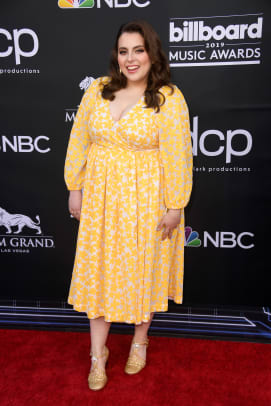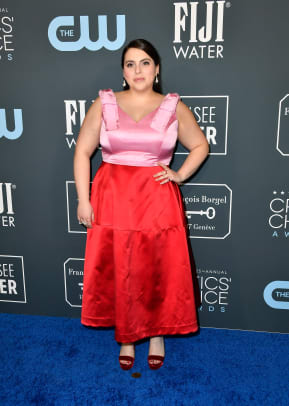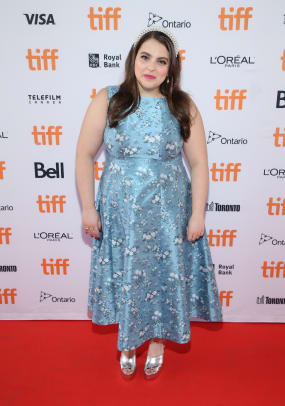 Want more Fashionista? Sign up for our daily newsletter and get us directly in your inbox.