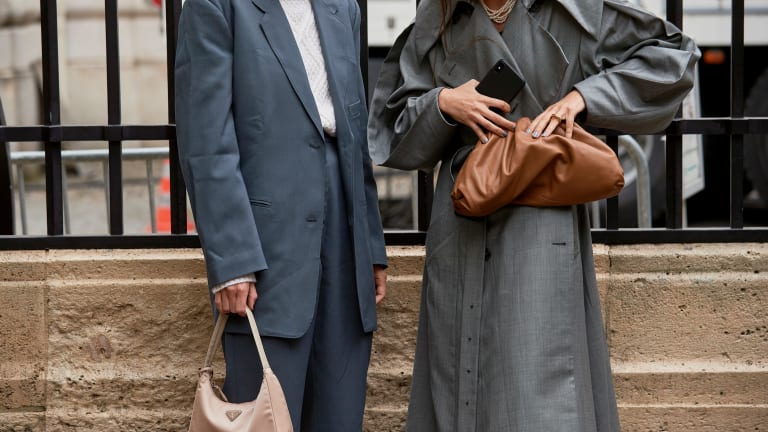 How Brands Can Navigate — and Benefit From — the Billion-Dollar Rental Market
Rent the Runway is no longer the only player in apparel rental.
Over the past few years, Marie Kondo has inspired people across the globe to only keep things that "spark joy." Going into the new decade, we see this phenomenon reflected in a general shift towards more conscious consumption — which can feel at odds with rapid trend cycles and the desire for constant newness that's come to be associated with social media. Still, reports suggest that shoppers are becoming more eco-conscious and are craving higher-quality alternatives to fast-fashion. So brands are faced with the unique challenge of resolving this paradox.
We know that fashion is an environmentally-taxing industry. And while investing in fewer, better things that you'll own for a long time has been seen as a solve from a consumer standpoint, it might not be a realistic proposition for all shoppers. Renting has stepped in as an alternative — and though its "sustainable" status is up for debate, it satiates that desire for newness that might drive someone to shop and dispose of something that's on-trend briefly. It also reimagines our relationship to ownership.
There are many obvious benefits to renting clothes: It allows a larger customer base to discover, wear and access products they might not be able to afford at retail; it adds variety to their everyday wardrobe without the same commitment; it encourages customer feedback and engagement, which are valuable to brands and shoppers alike. And its value is only growing — according to a GlobalData report cited by Bloomberg, the U.S. market for apparel leasing is expected to reach $4.4 billion by 2028.
Related Stories:
10 Subscription Rental Services That Will Disrupt Your Shopping Habits
Got a Sustainability Question? Now You Can Ask an Expert
How Rent the Runway's 'Closet in the Cloud' Is Changing the Face of Sustainability 
There are various ways for brands to get in on this economy. First, there's the Rent the Runway model: a centralized system where a third party acts as an intermediary between brands and consumers, allowing it to act almost like a rental wholesaler, responsible for buying, dry cleaning, listing, shipping and returning. Its centralized logistics and vast, multi-brand inventory make this distribution model easy to scale — and appealing to potential designer partners.
Sarah Benady, CEO of Ba&sh North America, says that Rent the Runway has been a key partner for the French brand for years, especially as it grew its business stateside. 
"I remember when we opened our first store, several customers came in because they had already rented from us on RTR and had fallen in love with our brand," she tells Fashionista.
Rebecca Minkoff decided to put her namesake label on Rent the Runway because the platform "is changing the way customers think about spending and shopping," she says. "It's important to engage in the rental economy because this is where the customer is. Contemporary fashion is about serving the customer with an expression of dress."
A big benefit for brands that put product up on these third-party rental sites is the vast array of qualitative and quantitative data they get back, like the number of times something's been rented and the conversion rate from rental to purchase. These metrics can be integral to help understand what's resonating the most with both current and aspiring customers.
Another useful bit of information, according to Benady, is the UTE, or the utilization rate, which allows a brand to see what percentage of their items are rented and the relative wear rate of their pieces. "The teams take note of if something has a high UTE rate but a low wear rate, then we can pull the item and identify the reasoning," she notes.
All of this, plus customer ratings and reviews, can give brands greater insight into why customers like a certain item — or why they believe that it's not worth the price. That can then, in turn, help inform or even modify a brand's product design or fit.
Tanya Taylor recalls how she leveraged customer feedback to inform two specific design decisions for Spring 2020: "a fixed bust on our wrap dress to provide more coverage and the creation of a new jumpsuit which was an evolution of combining two of our best-rented styles from Spring 2019." 
The designer says she's also been able to use data provided by Rent the Runway as a sort of proof of concept around her extended sizing business. 
"It has allowed us to go to other wholesaler partners and convince them to buy into our entire size range by showing them how big the appetite is."
Of course, with so many moving parts, there are some drawbacks to this distribution system. As we saw with Rent the Runway's supply chain crash back in September, even this centralized model has its limits. Plus, there's bound to be some human error in a giant reverse-logistics machine — a customer's order might contain the wrong item or color or size, a delivery might not arrive on time. This is where decentralized, peer-to-peer models offer a solution. 
Peer-to-peer rentals allow the platform to act as an intermediary between the lender and renter — a logistics provider, versus a new-age wholesaler. Platforms like Tulerie and VillageLuxe don't purchase or hold inventory from brands. Instead, they rely on the customers themselves to loan out and launder their items. Without having to worry about complex supply chains, they can offer hyper-localized curations with short delivery windows.
"As consumers, we are getting used to things 'on demand.' So it makes sense to have a decentralized system where items are not sitting in a distant warehouse pending fulfillment," says Julia Gudish-Krieger, founder and CEO of VillageLuxe. "They're available right within your zip code or city and can arrive within 15 minutes or five hours at scale anywhere in the world."
But it's not just new platforms disrupting how shoppers consume. Traditional wholesalers are getting into rental, too, seeing it as an opportunity to expand and refresh what many consider a dying business. 
In September2019, Bloomingdale's became the first major department store to launch an in-house rental subscription service, called My List. Denise Magid, EVP and general merchandising manager for ready-to-wear and concessions, believes that rental is an organic evolution for the wholesaler, noting that her team is "able to leverage our vendor relationships to create a brand matrix that delivers on our customers' needs."
A department store of that scale already has well-established customer relationships, based on product quality and an omni-channel experience. By adding rental, Magid says Bloomingdale's is able to provide shoppers "the freedom to experiment with new trends or choose pieces from the brands they already love without the financial investment." She adds that My List, which is powered by CaaStle, "has expanded our customer base, specifically millennial and Gen Z, given their interest in the rental market."
To get a slice of this growing market, URBN, parent company to Urban Outfitters, Anthropologie and Free People, took a different route. It started a brand-new business called Nuuly. It's rental-only and, for $88, gives shoppers the option to lease pieces from other URBN labels plus other outside designers and even vintage.
"We created Nuuly to offer customers an affordable way to infuse frequent newness into their wardrobes and try new brands and trends," says Kim Gallagher, Nuuly's Director of Marketing and Customer Success. "We believe that there will continue to be items that customers want to buy and items they want to rent."
Meanwhile, brands like Banana Republic, Loft, Express and even Ba&sh have introduced direct-to-consumer rental models, which let shoppers engage with their products in a new way and give them a solution to the problem of excess inventory. Vegan outerwear company Apparis has an initiative called Faux Fur Friday, where New York-based customers can rent items for the weekend, free of charge, from its SoHo showroom so long as the items are returned by the following Monday. 
Some designers — including BA&SH, Apparis and Rebecca Taylor — maintain a relationship with Rent the Runway and third-party rental systems while employing their own direct-to-consumer version.
"Rebecca Taylor continues to work very closely with RTR as they are great partners and we have worked with them since their inception," says Janice Sullivan, the brand's CEO. In November 2018, Rebecca Taylor introduced its own rental service, called RNTD. "It's interesting to see how the data aligns but also fascinating to see what resonates with their customers may sometimes be different than what resonates with ours." RNTD is programmed by CaaStle, which provides Rebecca Taylor with "advantages [which] include having access to lots of granular data," she adds, noting that the brand has seen "high keep rates on items rented," an increased average order value and a rise in incremental sales.
VillageLuxe's Gudish-Krieger finds that the rental model offers a financial incentive that's mutually beneficial to both lenders and borrowers. "Rental empowers women to play, test, evolve in their fashion journey, which benefits both the consumer and the brands she discovers," she says. Through the sharing economy, shoppers can maximize their purchase and treat products as a reflection of their personal value and those of the overall market. "Fashion ROI [return on investment] doesn't have to be just bang for buck on how many wears you get for an item, but will naturally grow to incorporate rental value as well." Not to mention resale value, to bring up another popular method of extending a product's lifecycle.
This behavioral shift could teach consumers to see an item's longevity and potential future value differently — and, in the end, hopefully encourage more mindful shopping. 
Want more Fashionista? Sign up for our daily newsletter and get us directly in your inbox.