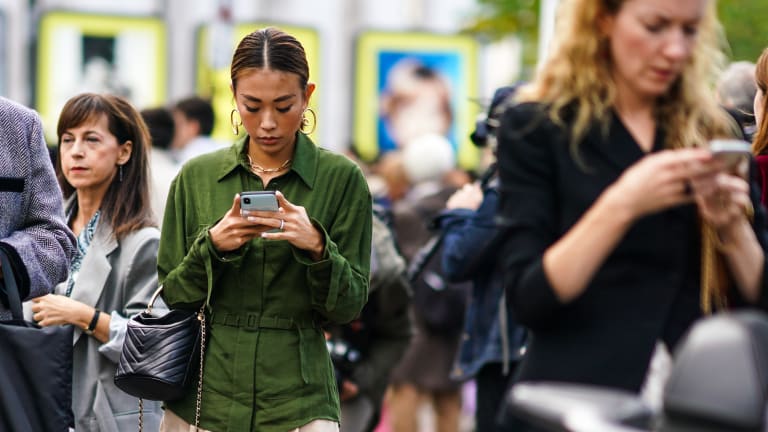 Online Retailers Are Making 'Sustainable' Fashion More Searchable
Customers are proving their enthusiasm for responsibly made goods through their searches and purchases – and smart retailers are responding accordingly.
If you were looking for an environmentally friendly version of a certain piece of apparel a few years ago, finding it would not have been easy. You'd type your query into Google and perhaps come across a few listicles from small "sustainability"-focused blogs, or if you were especially savvy, you might go directly to the websites of a few trustworthy retailers to browse their offerings.
What you almost certainly couldn't do was go to any of the leading fashion and luxury sites and click on one filter to see all their offerings that might align with your ethics. But as demand for responsibly made goods increases, that's exactly what e-commerce retailers are trying to make possible.
"This is becoming a really important thing to customers," says Anna Copilevitz, a project manager at Zappos. "They want to put their dollars where their values are, and we want to make that experience as easy as possible for them." 
Copilevitz manages Zappos's Goods for Good initiative, which launched in November as a way to highlight the retailer's "responsible" offerings. 
The time for the launch was ripe. According to a Lyst report tracking data for 6 million fashion products from over 12,000 online stores, searches including sustainability-related keywords increased 75% in 2019. And while a gap between what people say their values are and how they actually shop has been well documented over the years, that gap finally appears to be closing. According to NYU's Center for Sustainable Business, 50% of packaged goods market growth between 2013 and 2018 came from products that are marketed as "sustainable," despite the fact that these goods only account for about 17% of the overall market. 
Related Articles
2019 Was the Year Sustainability Finally Burst Into the Fashion Mainstream
Fashionista's Complete Beginner's Guide to Ethical Fashion Certifications
Got Sustainability Questions? Now You Can Ask an Expert
In short, the customer who's been saying for so long that they care about how their stuff is made is starting to put their money where their mouth is.
Zappos isn't the only purveyor of apparel that started trying to harness that shift to drive sales. Nordstrom, Net-a-Porter and Farfetch all launched new internal platforms or search functions in the past 12 months designed to make it easier for customers to find ethically made goods among their offerings.
"Sustainability in fashion has really boomed in the last 18 or 20 months," says Director of Sustainable Business at Farfetch Tom Berry on the phone, "in terms of the consumer interest and also interest from our brand and boutique partners."
For retailers looking to convert that consumer interest into sales, there are a few big challenges. The first involves vetting: How do you decide what brands or products to promote as "sustainable" or ethical options?
At Farfetch, the solution was to partner with Good On You, an app started in Australia that's been ranking brands based on their commitments to environmental, social and animal welfare since 2013. Good On You ranks brands on a scale of one to five based on these criteria, and Farfetch uses those rankings to decide what brands to include in its Positively Farfetch edit. 
A large brand (think the scale of Adidas) has to score at least four out of five, while a smaller brand (like, say, Ganni) — which might not have as many resources to scale sustainability initiatives — can be included with a minimum score of three. Beyond that, individual products can be included in the section if they have "a really strong independently certified or publicly stated criteria associated with the product," says Berry, like if they're made of organic cotton. Farfetch's vintage goods earn automatic admission to the section as well.
Other retailers, like Zappos, Nordstrom and Net-a-Porter, created their own vetting systems internally. To be included in Nordstrom's Sustainable Style section, a brand or product must be "sustainably sourced, responsibly manufactured, or give back." Net-a-Porter's Net Sustain section includes products evaluated based on five pillars: "reducing waste, locally made, considered processes, considered materials, animal welfare and craft and community." Zappos's Goods for Good project similarly sorts based on whether products are vegan, have a "give back" aspect, are "sustainably certified," organic or recycled.
"The attribute system recognizes that every brand will take a slightly different approach and prioritize different issues depending on the nature of their supply chain and their end product," says Elizabeth von der Goltz, Net-a-Porter's global buying director, via email. "There is no one-size-fits-all solution."
It's a fair point, but still begs the question of how retailers are defining terms like "sustainable" or "responsible" in their vetting processes. Some critics might see something like BCI cotton, which is included in Nordstrom's list of "sustainably sourced" materials, and say it doesn't go far enough when it promises neither organic nor Fair Trade-certified materials. Meanwhile, vegans might resent that Net-a-Porter's "Animal Welfare" section includes wool, even if that wool is certified by the Responsible Wool Standard.
But where to draw the line around "responsible fashion" and what words should be used to describe it has always been tricky, even before mainstream players got involved. If you're a brand that uses a hard-to-prove word like "sustainable," you could be accused of greenwashing. But if you don't use it, you could lose the customer who's relying on it as a search term — and who may appreciate the importance of fashion's environmental impact, even if they don't know to look up something more specific like "Forest Stewardship Council certified." 
Jason Keehn, founder of online marketplace Accompany, has been trying to make consciously-made fashion easier to shop since he started his company in 2013. According to Keehn, deciphering what language will attract genuinely conscious consumers without veering into vague, diluted terms has always been a challenge. 
"When it gets down to search engines, [you have to ask], 'Am I trying to educate people to make them understand what we're doing here and what the real issues are? Or is it 'Fine, you kind of just want to catch all the people who are interested?'" he says in a phone interview. "It's a funny little dynamic."
Search terms like "eco fashion" and "vintage style" have become important customer acquisition drivers for Accompany, even though Keehn says they don't necessarily correlate with Accompany's vision of itself, which is much more focused on supporting global artisan and craft communities than anything else.
Whether big or small, the best bet for retailers is probably to make it easy for any customer even vaguely interested in more "conscious" choices to find products they like — and then outline what exactly they mean by those words in more depth somewhere on the site. That flow aligns with how Nordstrom has seen people using its Sustainable Style section since it launched last August.
"Our customers tend to visit the 'sustainably sourced materials' category first, then progress to the 'responsibly manufactured' section, and then spend time in our 'learn more' section to find out what we mean when we refer to materials and manufacturing in this way," says a Nordstrom representative via email.
Should these specialized filters and shopping sections be enough to make customers feel good about shopping with the retailers in question? It depends on whom you ask. Cullen Schwarz, the founder of DoneGood, a browser extension and website founded in 2016 that exists to drive shoppers toward more ethical businesses, is torn. One the one hand, he says, it's positive to see such mainstream retailers highlighting consciously-made goods.
But on the other, "their sustainability initiatives are a drop in the bucket of their business, even if their sustainability initiatives are laudable," Schwarz says. 
From a pure numbers perspective, he has a point. At the time this story was filed, if you looked for women's products on Zappos's Goods for Good section you'd find 3,498 items. There were 101,214 women's products total on the site, which means that the Goods for Good section makes up a little over 3% of Zappos's total women's clothing offerings. Nordstrom listed a total of 98,907 women's products on the site; the Sustainable Style section, with its 1,200 products, makes up a little over 1% of that total. Net-a-Porter's Net Sustain section, with 1,145 products, makes up about 4% of its sitewide offerings of 28,922 products. Farfetch's percentage is the highest: the Positively Conscious edit accounts for "1,400+" women's products out of "10,000+" total women's products, or (very roughly) 14%. 
In other words, Schwarz is right. For most of these mainstream retailers, their "conscious" edits represent a tiny fraction of their overall businesses. If you're a smaller retailer like Schwarz who's built his entire company around brands that are trying to do good and has opted to forego profits from any that don't make the cut, that might seem like a sign that these other e-commerce platforms aren't worth supporting.
But if you're Berry or Copilevitz, these numbers might seem like all the more reason to invest in making sustainability more searchable, since they already have critical mass and visibility in the market.
As the fashion conversation evolves, evidence of climate breakdown becomes more obvious and consumers become increasingly knowledgeable, making "sustainable fashion" easy to shop for will become a given and retailers will have to do even more to distinguish themselves. 
Farfetch, for example, is already experimenting with algorithms that match customers to the boutiques closest to them to reduce shipping distances (and shrink carbon footprints). The company is also offering bonuses to boutique owners who use appropriate-sized packaging so that customers don't end up unboxing a tiny Jacquemus bag from a Balenciaga puffer-sized box. Both moves will up the retailer's sustainability chops while also cutting out costly waste that hurts the company's bottom line.
In Schwarz's mind, these initiatives — and new search platforms — are just steps on a journey toward something far more sweeping.
"The real victory will be when there isn't a need for a filter at all, because every product is made ethically and sustainably," he says. "So ironically, the creation of these filters is a sign of progress, and then further progress will lead to killing them again."
Homepage photo: Edward Berthelot/Getty Images
Stay current on the latest trends, news and people shaping the fashion industry. Sign up for our daily newsletter.