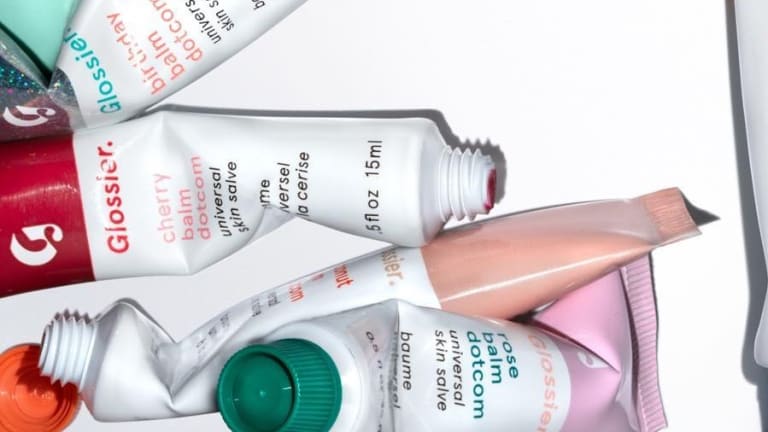 The 381 (!) Best Beauty Products Fashionista Editors Discovered in 2019
We tested a lot (no, like a lot) of skin-care, makeup, hair, fragrance and wellness products over the past 12 months.
Each month, Fashionista editors try a *lot* of beauty products. And while not every formula we test is a winner, we're constantly unearthing new favorites. Here, we've rounded up our latest hair, skin, fragrance, wellness and makeup discoveries — whether fresh-to-market drops or merely recent additions to our personal routines.
Goodbye, 2019, we hardly knew ye. Just kidding, we were actually far too well acquainted with you, the ultimate year in a decade that seemed truly endless. As we ready our bodies and minds to head into the roaring '20s (that's what we've collectively already decided to call them, right?), let's take a look back at the absolute best beauty finds of the year. 
Team Fashionista tested a lot (no, like a lot) of skin-care, makeup, hair, fragrance and wellness products over the past 12 months. Ahead, we've rounded up 381 (!) of our favorite finds from 2019. Buckle up and read on.
January
Last January, we raved about mood-lifting candles, skin-saving masks that work their magic while we sleep, fragrances that reminded us spring was (eventually) coming, face mists that protected our complexions from the daily struggles of being a human, oils that cured our breakouts and mascaras that transformed our lashes. 
February
In February, we were loving colorful makeup palettes, energy-boosting supplements, glow-enhancing exfoliators, spring-y fragrances and rich moisturizers that kept our skin hydrated through winter's worst weather.
March
During March, we test-drove skin-saving gadgets, glow-enhancing highlighters, curly-hair miracle workers, delightful fragrances, game-changing nail products and oh, so much more. 
April
In April, Fashionista editors unearthed mesmerizingly pretty makeup palettes, complexion-perfecting face masks, supplements that saved our skin (as well as our sanity) and a face oil that fully lives up to the hype. 
May
May's discoveries included a spray-on sunscreen, a Rihanna-approved lip scrub, a palo santo-spiked moisturizer, CBD gummies that support a noble cause and more.
June
The best beauty products we tried in June? A dream foundation formula from a beauty industry icon, an athleisure-inspired dry shampoo, a mousse sunscreen, game-changing hair tools, a cool-kid candle find and several vibrant eye makeup options. 
July
July's beauty favorites included blessedly lightweight, skin-protecting sunscreens; travel-friendly, perfectly seasonal fragrances; amazing-smelling, frizz-busting hair products; playfully bold additions to our makeup bags; and even practical, utilitarian fixes for the season's little annoyances, like less-than-presentable sandal feet and bug bites.
August
In August, Fashionista editors discovered a calming and centering perfume oil, an update to the iconic tinted moisturizer that inspired a million copycats, a CBD-spiked cream that's the stuff of relaxation dreams, an inexpensive hair oil that works wonders on frizz, a drugstore lip color and two (!) dental flosses that completely revolutionized our oral hygiene routines. 
September
During September, we tried a mask that rehabbed seriously damaged hair, several complexion-perfecting serums, a ridiculously luxurious body cream and a beloved mascara with an under-$20 price tag.
October
October's finds included a biodegradable body wash, the perfect fall nail polish, candles we couldn't get enough of, a game-changing nail polish remover that didn't dry out cuticles, several cannabis skin-care products that are actually legit and a whole host of lip colors we couldn't stop wearing. 
November
In November, team Fashionista discovered hair-saving conditioners, skin-transforming serums, unexpected signature scents, ultra-effective exfoliators, time-saving brow enhancers, de-puffing undereye treatments and the one candle we can't stop burning lately.
December
In December, we dabbled in all things moisturizing — for undereyes, for cuticles, for arms and legs, for hair and for faces — and also discovered a (way) cheaper alternative to the Dyson Airwrap, an unexpected winter nail color, several glow-enhancing highlighters and a couple of new hair helpers.
Please note: Occasionally, we use affiliate links on our site. This in no way affects our editorial decision-making.
Stay current on the latest trends, news and people shaping the fashion industry. Sign up for our daily newsletter.