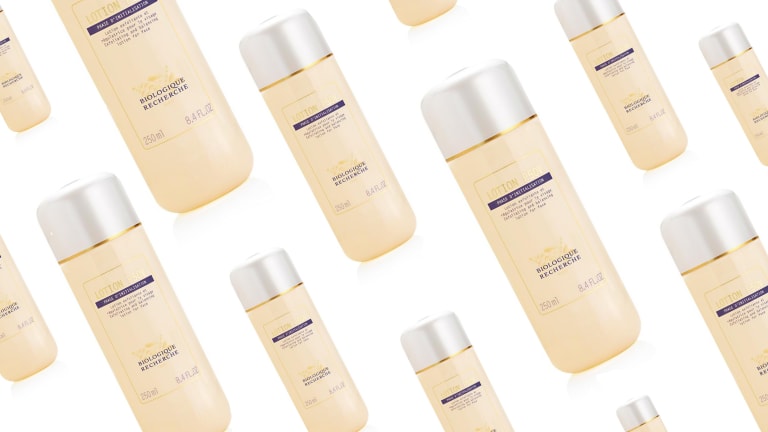 Do We Take Skin-Care Products More Seriously if They Smell Bad?
Some of the most beloved formulas have infamously putrid stenches. Perhaps that's part of the appeal.
In the 1980s, Frank Buckley, founder of Canadian cough syrup company Buckley's coined the brand's slogan: "It tastes awful. And it works." At the time, it resulted in a significant spike in the brand's market share. The premise was simple: Even though the product had a foul taste, customers bought it because it was perceived as so effective. 
There exists a widely held, long-standing notion that consuming or applying medicinal products should not be a pleasant experience. The same school of thought can be applied to the skin-care industry, which is rife with examples of backed-by-science products that have cult-like followings of devoted fans, despite their infamously horrid scents. But as the products' reputations have solidified through the years, cementing them as part of the elite "cult favorites" category, have their seemingly unappealing scents actually added to their appeal?
Related Articles
These Classic Skin-Care Products Are Becoming Increasingly Polarizing
'Acne Neutrality' May Be a Better Confidence-Boosting Benchmark Than 'Acne Positivity'
The Enduring Appeal of the Skin-Care Ingredient Origin Story
Take, for example, vitamin C serums. They may currently be the go-to when it comes to brightening, skin-tone-evening formulas, but if you've ever used one (that's not heavily loaded with artificial fragrance), you know that they smell like hot dog water. That unfortunate yet familiar smell includes some of the most research-backed, dermatologist-recommended vitamin C serums on the market, like SkinCeuticals C E Ferulic.
The serum, which launched in 2005 as the result of 40 years of research, is often regarded as the gold standard of topical vitamin C formulas. CE Ferulic "has a short ingredient list, which indicates there may be less chance of irritation," explains cosmetic chemist Lalita Vedantam. "Vitamin C at 15%, along with tocopherol and ferulic acid, is a fantastic antioxidant combination. The formulation is stable and can effectively fight free radicals." In short, it works, and it has the science-backed receipts to prove it.
The serum's odor, however, is less well-documented. "The etiology of the odor of CE Ferulic remains a mystery," explains dermatologist Dr. Evan Rieder, who is one of only three physicians in the U.S. that's board-certified in both dermatology and psychiatry, "since there are so many other vitamin C and E-containing products on the market [that don't share its smell]."
Other honorable mentions on the "hold your breath while applying" list include: Sunday Riley Good Genes (which has been said to smell like expired yogurt), Biologique Recherche Lotion P50 (which is made with vinegar, and horseradish and onion extract and smells, well, like that) and SK-II Facial Treatment Essence (the fermented yeast included in the formulation is likely responsible for its funky sour aroma).
But besides their scents, which we can group under the "hot garbage" category for the sake of simplicity, what these products have in common is their wildly devoted legion of  fans around the globe.
While concrete data about the correlation between a product's scent and consumers' perception of its efficacy mostly doesn't exist, "we can [only] hypothesize that there is something about the medicinal quality of a product that might lead a consumer to believe that is working," suggests Dr. Rieder. The data that does exist regarding the scents of beauty products is centered around the differences in how men and women perceive smells in these formulas. Studies show that women are more likely to take a big-picture approach to their beauty regimens "and are more willing to use something with an unpleasant or no odor if they believe (or experience that) it is working," says Dr. Rieder.
If the hypothesis that a medicinal-smelling product primes users to experience a product as more effective is true, how can luxury, designer skin-care lines compete these days? "When I think of [brands like] Dior and Chanel, I usually think of their fragrances and makeup [lines], rather than skin care," says Vedantam. "This may be, in part, because of the fact that their products are heavily [artificially] fragranced. Until a few years ago, this wouldn't have been a problem because consumers' buying decisions were influenced by the fragrance of a skin-care product." (Remember the days before Reddit ensured we all had an ingredient handbook available at our fingertips at all times?)
"But recently, this has changed," says Vedantam. "With the influx of indie brands showcasing a no-frills approach, fueled by YouTube and Instagram bloggers, consumers are now more educated about the science behind skin care than ever before." The same can be said for newer, Instagram-famous brands whose ethos revolves around fruity scents. These products can often read younger, suggests Vedantam, but even the consumers who have been more drawn to fruity, hit-you-over-the-head notes in the past are beginning to eschew them, instead seeking out potentially less-irritating formulas with fewer additives.
With consumers demanding more transparency from brands, learning to analyze ingredient lists and reading dozens of reviews before buying a product, skin-care purchases are becoming less dependent pleasant (or overbearingly sweet) scents. Two decades ago, we wouldn't have been caught dead without a generous coating of marshmallow-scented body lotion. (Remember Jessica Simpson's entire body product line of the early aughts?) These days, though, added fragrance — even in the form of a luxe moisturizer from a designer brand — has become somewhat of a dirty concept, owing in large part to the 60-70% of women and 50-60% of men worldwide who claim to have sensitive skin.
Which brings us to the natural beauty industry's role in this whole evolution. It's no secret that the category is not regulated by the FDA and can often come with murky research, especially when compared to products from large, established brands with the resources to fund clinical studies. The natural beauty industry is also known for its frequent use of essential oils for scenting formulas; but the problem is that essential oils are often cited as irritants. "Sometimes, 'earthy' fragrances are actually added to the product to give it that 'natural' smell," explains Vedantam. So while you might love the invigorating scent of tea tree oil in your morning serum, or the relaxing aroma of lavender oil in your night cream, they're not necessarily ingredients that are easily tolerated by all skin types, and could be causing irritation, allergic reactions and even burns for some.
While consumers are certainly encouraged to do their own research and learn how their skin reacts to various ingredients, if playing a game of trial and error at the expense of your face doesn't sound appealing, "the benefit of using well-tested synthetic products is that the major industries who make these products have research and development budgets that most green beauty industrial players cannot compete with," says Dr. Rieder. At the end of the day, just as medicinal scents don't guarantee efficacy, 'natural' scents don't guarantee skin health. 
"I think that there is a certain type of person who wants skin-care products to have some sort of odor," says Dr. Rieder. From the consumer side, "the aromatic quality — whether positive or negative — of the [product] may impart a sense of efficacy, whether or not the product is working." But he believes this is the result of consumer behavior rather than brand marketing schtick. "I'm sure that the companies [behind beloved but unfortunately scented skin-care staples] would prefer their products were pleasant in aroma, or at least odorless. The fact that people love them despite the odor is a testament to their quality."
Please note: Occasionally, we use affiliate links on our site. This in no way affects our editorial decision-making.
Stay current on the latest trends, news and people shaping the fashion industry. Sign up for our daily newsletter.