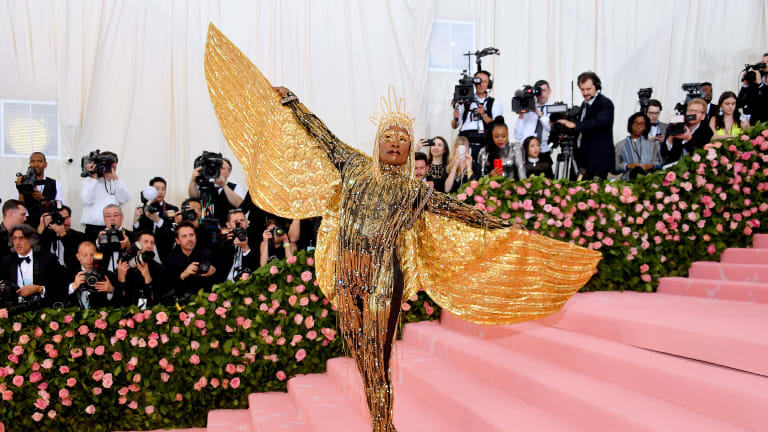 A Guide to Instagram's Many, Many Fashion Challenges
Consider it your much-needed escapism.
If there's one thing that I've learned from scrolling through Instagram way beyond my screen-time limit these past few weeks, it's that people are... bored. And after they've exhausted their Netflix queue, they've found new ways to entertain not only themselves but their audiences online. Enter: social media challenges. 
You've seen the First Photo couple and Bingo challenges all over Instagram Stories, sure. But there's an entire subset of just fashion challenges. It makes sense: With almost everything related to the industry being canceled, postponed or put indefinitely on hold, a creative outlet to be extra must be found. And in a world where we've internalized trying to make everything — including self-isolation — have a purpose or some sort of capitalistic value, these fashion challenges are pure fun. 
Whether's it's using fruit to make designer-inspired shoes or dressing up in at-home couture, discover the fashion challenges trending on an Instagram feed near you right now. 
#JacquemusAtHome
Simon Porte Jacquemus is no stranger to excelling at social media. (See: his viral handbags.) But one recent Instagram post started a frenzy, when he shared an image of someone imitating one of his shoe designs — specifically, the Bahia and Portofino heels — by standing on his tippy-toes, with their heels over orange and a lemon. It inspired many others to follow suit, recreating the images and the footwear with whatever they could find in their homes. And Jacquemus himself began reposting them. And thus, the hashtag — and Instagram-wide photo challenge — #JacquemusAtHome — was born.
#GoingNowhereButFuckItImGettingDressed

With her wit and eclectic approach to style, Leandra Medine Cohen has always been a breath of fresh air not just in the fashion community, but on Instagram. During this time of self-isolation, she and her colleagues at Man Repeller started up the hashtag #GoingNowhereButFuckItImGettingDressed to highlight some excellent outfits being worn from the safety of people's homes. A few scrolls into the tag, and your mood will be boosted, guaranteed. 
#DontRushChallenge
What started off as a challenge on TikTok quickly spread to Instagram, particularly among beauty influencers and industry folk. Along with the tune of "Don't Rush" by Young T and Bugsey, the videos consist of people and their friends changing out of their at-home look with creative transitions to give themselves a little makeover. 
#DaytimeNightclub
Iconic Los Angeles retailer Fred Segal started a social media challenge to not only bring the fashion community together during a difficult time, but to also take part in efforts to provide aid for those affected by Covid-19. Its #DaytimeNightclub challenge asks participants to dress as if they were going out, even if nightclubs aren't their forte, and stay in. For each post that uses the hashtag, Fred Segal will donate $5 to Feed America and its Covid-19 Response Fund up to $25,000, until April 30. 
#PillowChallenge
There are officially no rules when it comes to an Instagram-worthy outfit, and the widely-imitated #PillowChallenge proves it. Consider it weird, yes, but also...kind of chic? Not to mention, the DIY ensembles are giving off major Giambattista Valli vibes. The hashtag currently boasts 156,000 posts and counting, with users all over tapping into the challenge and promoting the stay-at-home look. 
#WFHfits
#WFHfits is also an Instagram account (@wfhfits), with users submitting images of their work-from-home attire in the hopes of being featured. What's comforting about this particular hashtag is that there's a lot of variety, in terms of style and aesthetic. To join in on the fun, send @wfhfits a DM. 
#BillyPorterFashionChallenge
The category is... social distancing. Billy Porter took to Instagram to challenge his followers to get creative with items found around the house and reimagine some of his most memorable red-carpet looks, including his 2019 Met Gala look by The Blonds (pictured at the top). And they've surpassed all expectations, putting together avant-garde ensembles while passing the time at home.
#HomeCouture
Although the upcoming haute couture shows have been canceled, that doesn't mean you can't indulge in your own fashion fantasy from the comfort of your home. George Serventi, a London-based writer, started the hashtag #HomeCouture to encourage people to re-create some of the most fashion-forward moments seen on the runway using whatever they find lying around in the house. The results included looks inspired by everything from John Galliano for Maison Margiela to '00s Alexander McQueen. The hashtag celebrates the weirdness of fashion as a whole and simply put, it's a sight to behold. 
#RunwayForRelief
IMG Models teamed up with New York Fashion Week to raise awareness about Vogue and the CFDA's "A Common Thread" relief fund, which aims to help members of the American fashion community that have been impacted by Covid-19, with its own Instagram challenge. Users can share their runway-ready walk with the tag #RunwayforRelief. 
#PoseAtHome
For model Coco Rocha, social distancing has meant a pause on photoshoots and studio time. That isn't stopping her from posing, though — and with the #PoseAtHome challenge, she has an audience. The hashtag is a place where you can tap into your inner model behavior. 
Want more Fashionista? Sign up for our daily newsletter and get us directly in your inbox.