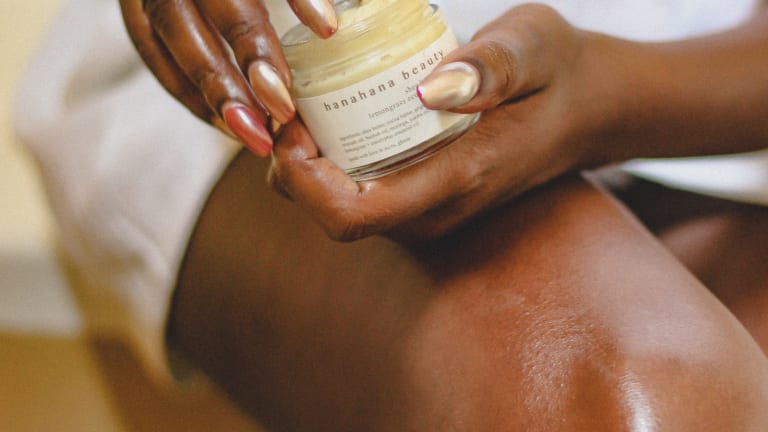 450+ Black-Owned and Founded Beauty and Wellness Brands to Know
A database for shoppers, investors, editors, influencers and social media users.
Whether small indie startups or veteran staples of the drugstore aisle (and everything in between), there are many, many Black-owned and founded beauty and wellness brands on the market well worth knowing and supporting. The list is ever-growing, so we've put together a database of 450+ of these businesses, viewable both in the list below and as a public Google docs spreadsheet, for a more organized and searchable format. 
Our hope is that shoppers will consult it whenever they consider where to spend their dollars, yes, but also that it may serve as a resource for our own editors and our media industry peers as they put together product roundups, for investors looking for new business ventures, for retailers seeking brands to stock, for influencers looking for brands to spotlight and for social media users wanting to see more Black-owned beauty businesses in their feeds. (For more, Julee Wilson has compiled an extensive list of Black-owned brands on her Instagram stories; Alyssa Coscarelli has a dedicated post highlighting Black-owned brands; Byrdie has a great article, too, as do Kayla A. Greaves at InStyle and Maya Allen at Marie Claire. Writer Kaleigh Fasanella has also shared a public spreadsheet of Black-owned beauty brands.)
We will continue to update the database as new brands emerge and come to our attention. Any suggestions for edits, additions or updates are welcome — we'd love to hear from you via email at tips@fashionista.com.
2 Girls With Curls
Instagram: @2girlswithcurls
What it is: Natural, plant-based hair care local to Columbus, Ohio.
Product to try: Leave-In Conditioner
26 King Wavy
Instagram: @26kingwavy
What it is: Men's hair and grooming products.
Product to try: Pomade 
54 Thrones
Instagram: @54thrones
What it is: Luxury plant-based skin care.
Product to try: Ugandan Vanilla + Ethiopian Honey Beauty Butter
127East Cosmetics
Instagram: @127east
What it is: Color cosmetics with a focus on lip products.
Product to try: CBD Lip Shine 
212 Luxe
Instagram: @212luxe
What it is: Cruelty-free natural body and skin care, home fragrance and teeth whitening products.
Product to try: Almond Coconut Body Butter 
241 Cosmetics
Instagram: @241cosmetics
What it is: Cosmetics line started by twin sisters.
Product to try: Honor
829Lashes
Instagram: @829Lashes
What it is: Lashes and application tools.
Product to try: BNB Lashes 
1988 Fragrance
Instagram: @1988fragranceco
What it is: Home and personal fragrance and body care.
Product to try: Creamy Body Butter 
A Dash of Beauty
Instagram: @adashofluxe
What it is: Luxury soy candles and wax melts.
Product to try: Grace
A Kweendom's Beauty
Instagram: @_a.kweendoms.beauty
What it is: Handmade, natural, African inspired bath and skin care.
Product to try: Lavender Breeze Massage Soap 
Aba Love
Instagram: @abaloveapothecary
What it is: Plant-based skin care, botanical perfume and healing aromatherapy blends.
Product to try: Divine Me Anointing Oil
Aboni Cosmetics
Instagram: @abonicosmetics
What it is: Cruelty free color cosmetics.
Product to try: Matte Liquid Lipstick in Sweetest Taboo 
Absolute Joi Skincare
Instagram: @absolutejoi
What it is: Physician-created clean skin care that caters to Black womxn.
Product to try: Skin Refining Night Oil with Retinol and Vitamins C+E 
AcARRE Beauty
Instagram: @acarrebeauty
What it is: Prestige beauty products that drawn on African and Pacific Islander ancestry elements.
Product to try: Beauty Edit Multi-Use Skin Care Moisturizing Oil 

Ace Beauté
Instagram: @acebeaute
What it is: Color cosmetics, lashes and makeup brushes.
Product to try: Paradise Fallen Palette 
Adwoa Beauty
Instagram: @adwoabeauty
What it is: Clean, gender neutral hair products for kinky, curly and wavy textures.
Product to try: Baomint Protect and Shine Oil Blend
Aeva Beauty
Instagram: @aevabeauty
What it is: Multi-use highlighters and lip products.
Product to try: Venus Highlighter
Afrolocke
Instagram: @afrolocke.de
What it is: Hair care products for curls. 
Product to try: Shampoo

Agrestal Beauty
Instagram: @agrestalbeauty
What it is: Hand-crafted, plant-based skin care.
Product to try: Cleanse Charcoal & Willowbark Cleanser 
AJ Crimson Beauty
Instagram: @ajcrimsonbeauty
What it is: Intensely-pigmented, professional-quality makeup.
Product to try: AJC Universal Finishing Powder 
Alaffia
Instagram: @alaffia
What it is: Hair, body and skin-care products that rely on fair trade ingredients to support the brand mission of providing resources to encourage gender equality and alleviate poverty in West African communities.
Product to try: Everyday Shea Body Wash Unscented 
Alexandra Winbush
Instagram: @thealexandrawinbush
What it is: Candles and wellness products.
Product to try: Window Seat Candle 
Alchemy Body Shop
Instagram: @alchemybodyshop
What it is: Natural and organic handmade bath and body care.
Product to try: Halo Body Scrub 
Alikay Naturals
Instagram: @alikaynaturals
What it is: Hair and skin care with a focus on high-quality ingredients. 
Product to try: Honey and Sage Deep Conditioner
Alima'j Collections
Instagram: @alimaj.collections
What it is: Lip glosses and mink eyelashes. 
Product to try: Plush Matte Liquid Lipstick Collection
Alodia Hair Care
Instagram: @alodiahaircare
What it is: Natural hair care products.
Product to try: Wash n Go Style Kit
Alori Collection
Instagram: @aloricollection
What it is: Makeup brushes and cleaning products.
Product to try: Everything Brush Set
Amenda Beauty
Instagram: @amendabeauty
What it is: Natural skin and body care.
Product to try: Kapha - Hibiscus Toner Essence 
Amoré Monét Cosmetics
Instagram: @amoremonet
What it is: Vegan and cruelty-free lip products by makeup artist and hairstylist Amoré Monét.
Product to try: Basic
Andrelle's Natural Skin Care
Instagram: @shopandrelles
What it is: Handcrafted skin care made by a clinical herbalist.
Product to try Waking Beauty Eye Balm 
Angie Watts Clean Beauty
Instagram: @angiewattsisoninsta
What it is: Natural, vegan skin care.
Product to try: Oshuh's Skin Food, Turmeric + Adzuki Bean Scrub 
A'Ni & Co.
Instagram: @ani.andco
What it is: Vegan coconut wax candles hand-poured in Brooklyn.
Product to try: Homme 8 oz. Candle 
Anita Grant
Instagram: @anitagrant
What it is: U.K.-based natural skin care and hair care for curls.
Product to try: Rhassoul Deep Condish
Antik Lakay
Instagram: @antiklakay
What it is: Fragrance, candles and wellness products.
Product to try: Hydrate Essential Body Oil 
Annabelle's Perfect Blend
Instagram: @annabelles_perfectblend
What it is: Handmade hair and skin care products.
Product to try: Bar Soap
Argan Afriquia
Intagram: @arganafriquia
What it is: Natural skin and hair care.
Product to try: Amorous Argan Oil Hair and Scalp Serum 
Antidote Street
Instagram: @antidotestreet
What it is: Multi-brand retailer specializing in products for curly, kinky, afro or multi-textured hair. 
Product to try: Bouclème Complete Discovery Kit
Au Ntrl
Instagram: @au_ntrl
What it is: Natural skin and body care.
Product to try: Pink Rose Scrub 
Aunt Jackie's Curls and Coils
Instagram: @auntjackiescurlsandcoils
What it is: Premium curly hair products.
Product to try: Frizz Patrol Anti-Poof Twist & Curl Setting Mousse 
Avalah Beauty
Instagram: @avalahbeauty
What it is: All natural skin, hair and beard care. 
Product to try: Classic Body Butter
Ayond
Instagram: @_ayond_
What it is: Clean skin care inspired by ingredients from the desert.
Product to try: Rock Rose Serum 
B Fragranced
Instagram: @bfragranced
What it is: Luxury fragrances for men and womxn.
Product to try: Embellish Eau de Parfum Rollerball 
B.Simone Beauty
Instagram: @bsimonebeauty
What it is: Vegan and cruelty-free makeup.
Product to try: Lip Mattes in Link in Bio 
Base Butter
Instagram: @basebutter
What it is: Aloe vera-based moisturizer for oily and combination skin.
Product to try: Radiate Face Jelly 
Bask and Bloom
Instagram: @baskandbloom
What it is: Hair products that promote growth and retention using herbs and Aurveydic ingredients.
Product to try: Hydrating Vitamin Curl Mousse 
Be Transcendent
Instagram: @betranscendentskin
What it is: Plant-based natural skin care.
Product to try: Recharge Facial Cleanser 
Beautébazar
Instagram: @beautebazarhq
What it is: Pre-launch beauty for people of color.
Product to try: N/A (pre-launch)
Beauty Bakerie
Instagram: @beautybakeriemakeup
What it is: Vegan, cruelty-free, long-lasting, highly pigmented makeup.
Product to try: Instabake Aqua Glass Foundation 
Beauty by Africa Miranda
Instagram: @beautybyafricamiranda
What it is: Skin care based on ingredients inspired by world travel.
Product to try: Facial Elixir 
Beauty by Stony
Instagram: @stonycosmetics
What it is: Cruelty-free cosmetics.
Product to try: Remedy Eyeshadow Palette
BeautyBeez
Instagram: @beautybeezstore
What it is: Beauty e-retailer specifically catering to womxn of color.
Product to try: Kazmalege Kurls+ Detangling Comb 
BeautyMarked & Co.
Instagram: @beautymarkedandco
What it is: African-inspired beauty accessories and makeup.
Product to try: Nile Butterfly Effect Mascara 
BeautyStat
Instagram: @beautystat
What it is: Highly active skin care created by cosmetic chemist Ron Robinson.
Product to try: Universal C Eye Perfector 
Beija Flor Naturals
Instagram: @beijaflornaturals
What it is: Organic skin, body and hair care.
Product to try: Creme Brulee for Kinks, Curls and Coils
Bekura Beauty
Instagram: @bekurabeauty
What it is: Spa-quality natural body and hair products.
Product to try: Vanilla Whiskey Restoring Hair Soak 
BelleBar-Organic
Instagram: @bellbarorganic
What it is: Organic skin, body and hair care.
Product to try: Creme Brulee for Kinks, Curls and Coils