Rihanna Is Finally Blessing Us With Fenty Skin [UPDATED]
She's making summer 2020 less bad.
Attention Rihanna fans and Fenty Beauty fans (that's just about everyone, right?): Fenty Skin officially has a launch date. And it's soon — July 31, to be exact. 
On Tuesday, the singer/designer/beauty disruptor announced the forthcoming launch of her long-awaited skin-care line, a brand separate from the existing Fenty Beauty color cosmetics range, with its own dedicated Instagram handle and website to make that ultra-clear. Finally, a bright spot amidst the dismal, can-you-believe-this-shit? darkness of 2020.
Rihanna posted a video of herself, fresh-faced, going through the steps of her skin-care routine, on Instagram on Tuesday. "Ima try my best to be humble about this but, @fentyskin is coming July 31st exclusively at FENTYSKIN.COM!!" she wrote.
While the details of the range have not yet been announced, from the video teaser, there appears to be a creamy cleanser, some sort of hydrating essence or serum and a moisturizer. (Also, according to Rihanna, it's totally fine to leave all your rings on while you're doing your full routine — something that seems quite brave to me, a chronic ruiner of nice things.) 
There are also indications that, in true Rihanna form and like Fenty Beauty before it, Fenty Skin seeks to be an inclusive game-changer in its category. When a fan tweeted asking if Rihanna would be creating a separate skin-care range catering to men, the star responded to indicate that her products are for all people: "Whoever told you skincare has a gender, LIED to you!" 
Rihanna has been teasing Fenty Skin for quite awhile now. She most recently spoke about it in an interview with British Vogue when she appeared on the magazine's cover last March. She hinted that getting skin-care formulas up to Fenty standards hadn't been easy: "Skin care, it's the truth. It either works or it doesn't. There's nowhere to hide." 
She's not wrong: Consumers are arguably more educated than ever on the subject of skin care and if there's any lesson to have been learned from Kylie Jenner's foray into the category via Kylie Skin, it's that just because people are committed fans of a celebrity or of a color cosmetics line doesn't mean they'll automatically buy into skin products from the same brand. (Critics were quick to criticize Jenner's skin-care offerings, a walnut scrub in particular.)
Fenty Skin will make its debut exclusively on FentySkin.com on July 31, where fans can also sign up now for email alerts to stay in the know.
UPDATE, Monday, July 20, 8:47 a.m.: Over the weekend, Fenty Skin released campaign imagery and videos to tease the upcoming product launch. The short film — aka the closest thing we will get to a Rihanna music video anytime soon — shows Rihanna hanging poolside with a crew of gorgeous, dewy-skinned people. The video also touts Fenty as "The New Culture of Skincare."
While the visuals don't reveal much about the specifics of the product formulas, they do reveal just how inclusive Fenty Skin will be and underscore the fact that it is genderless, with none other than A$AP Rocky and Lil Nas X serving as two (of many) faces of the brand. "That's right baby...@fentyskin is for my fellas too! No matter who you are, you deserve to have great skin!" Rihanna captioned a campaign photo featuring herself alongside A$AP Rocky on Instagram.
The campaign also features a slew of big-name talent: Halima Aden, Paloma Elsesser, Jazzelle, Tommy Genesis, Asianna Scott, Eniola Abioro and Renell Medran, among others.
On Sunday, Rihanna posted a photo of herself from the Fenty Skin campaign on Instagram, glow-y skinned as ever, with a caption about what went into creating the Fenty Skin lineup.
"I've been working on @fentyskin for over 2 years, perfecting formulas and creating packaging that is kind to our planet!!" she wrote. "Formulas that work, and work well with makeup!!! Everything starts with the foundation that is your skin and we all know how obsessed I am with beautiful, healthy skin- so whether you want to wear makeup, or no makeup at all, there's always glowing skin underneath." 
While the names of the products have yet to be released, internet beauty sleuth @TrendMood1 screen grabbed images from the campaign video to examine, concluding that the three-product Fenty Skin lineup includes "Total Cleanser," "Fat Water Toner" and "Day Cream with SPF." Promising, intriguing, exciting things happening in the skin-care world (if not the actual world) right now.
UPDATE, Tuesday, July 28, 8:47 a.m.: The three-product debut Fenty Skin (dubbed the "Start'rs") lineup has officially been unveiled. For her initial skin-care offering, Rihanna gives us Total Cleans'r Remove-It-All Cleanser, which will retail for $25; Fat Water Pore-Refining Toner Serum, which will retail for $28; and Hydra Vizor Invisible Moisturizer Broad Spectrum SPF 30 Sunscreen, which will retail for $35 (the packaging is refillable; refills will retail for $30). 
The brand also shared more information on the formulations and ingredients on Monday night. Per press materials, the cleanser is described as a creamy, lathering formula intended to remove "dirt, oil and longwear makeup without drying out the skin." The intriguingly named Fat Water is a serum-toner hybrid which purports to treat dark spots, brighten, smooth and fight shine "without stripping skin"; the moisturizer is touted as a lightweight, oil-free formula with a pink tint to prevent the common tendency some sunscreens have to appear chalky on medium and dark skin tones. It offers SPF 30 protection and promises to create a smooth finish beneath makeup, in addition to coming in a refillable bottle. It moisturizes with hyaluronic acid, brightens with niacinamide and has been dubbed "coral reef-friendly" by the brand because it doesn't rely on oxybenzone or octinoxate as sunscreen ingredients. 
A recurring ingredient throughout all three products is "Barbados cherry" or acerola cherry, no doubt chosen because it's native to the same island from which Rihanna herself hails, but also because of its potent antioxidant properties. In addition to offering one refillable product, Fenty Skin is also seeking to establish its "earth-conscious" approach by "eliminating boxes where possible [and] incorporating some post-consumer recycled materials." All of the formulas are also cruelty-free.
"I've lived and traveled all over the world and I wanted to make sure that Fenty Skin represented the best-of-the-best when it came to our ingredients. I wanted safe, clean, effective formulas that celebrated and respected what our planet has to offer," said Rihanna of the products in a press statement.
In addition to unveiling the products, Fenty Skin announced that New York-based esthetician Sean Garrette, who has amassed a following of 50,000+ on Instagram for his skin-care content and reviews, will serve as Fenty Skin Ambassador.
In the gallery below, a closer look at the Fenty Skin Start'r lineup: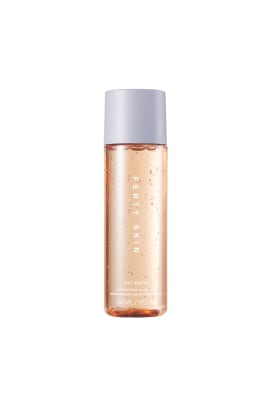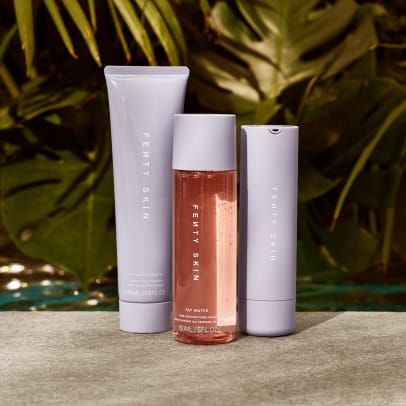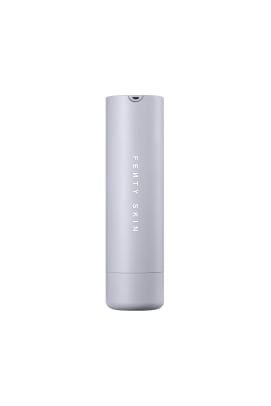 Please note: Occasionally, we use affiliate links on our site. This in no way affects our editorial decision-making.
Never miss the latest fashion industry news. Sign up for the Fashionista daily newsletter.