KARA Archive Sale - NYC - July 22nd - 25th
The 2021 Archive sale features signature styles to the brand, including Bike Chain wallets, camera bags, Backpacks, Pinch Shoulder Bags and more.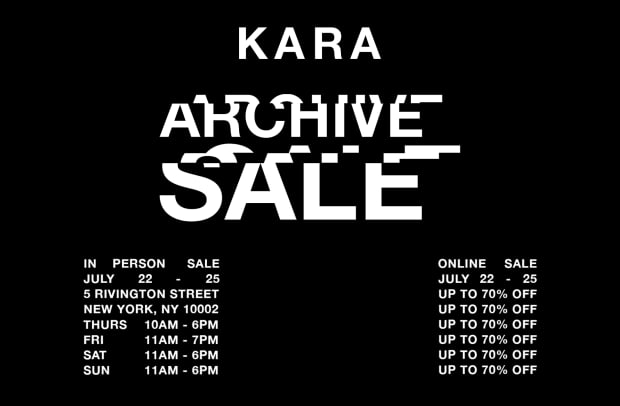 KARA is an enthusiastic celebration of being many things - not fitting into a specific mold. Inspired by designer Law's personal journey, the brand highlights the multifaceted individual and recognizes that as a community, we also manifest a spectrum. Each design is a blank canvas for which the wearer can project themself upon - reflecting the attitude that you should wear the bag, the bag should not wear you.
KARA ARCHIVE SALE:

IN PERSON SALE

• Runs from July 22 - July 25 located at 5 Rivington street, West unit store front, NY, NY 10002
• Sale Hours
   - Thursday, July 22, 10am - 6pm
   - Friday, July 23, 10am - 7pm
   - Saturday, July 24, 11am - 6pm
   - Sunday, July 25, 11am - 6pm

Online sale at KARAstore.com