Can Matthieu Blazy Keep the Magic Going for Bottega Veneta?
The Fall 2022 collection he designed for the Italian house is a strong start.
It can be rather challenging to truly shock the fashion crowd, but shocked it was when Bottega Veneta announced it would be parting ways with designer Daniel Lee in Nov. 2021. 
Lee had, of course, put the Italian house on the map with his designs, making it so popular that it practically printed its own money — which made the circumstances surrounding Lee's departure all the more mysterious.
Regardless, Lee was out, and Bottega Veneta swiftly named Matthieu Blazy to take his place at the helm. He was a natural fit, having served as the brand's ready-to-wear design director since 2020 and coming with experience at labels like Raf Simons, Maison Martin Margiela and Céline (with the accent, thank you). In many ways, it was a home-run set up: All Blazy would have to do, really, is step into the creative director role and keep churning out the kind of hits that had been fueling Bottega Veneta's growth over the past few years.
It's hard to imagine that would be an exciting prospect for a designer eager to put their own stamp on a brand, no matter how much trickier that line might be to toe. But Blazy dove headfirst into that challenge for Fall 2022, his first collection for Bottega Veneta. 
"Bottega Veneta is in essence pragmatic because it is a leather goods company. Because it specialises in bags it is about movement, of going somewhere; there is fundamentally an idea of craft in motion," Blazy said in the show notes. "It is style over fashion in its timelessness. That is part of its quiet power."
Unsurprisingly, the bulk of his focus falls on handbags and shoes, those must-have items that seem to fly off shelves. Blazy shifts away from the styles that made his predecessor so successful, and puts his own tweaks on some of the brand's signature woven leather "intreccio" pieces, expanding it out to include bucket bags and thigh-high boots. Where the leather strips typically sit more flat, his have depth and dimensionality to them, still beautifully made but less formal in feeling. There's a continuation of the "pillow" styles, now blown-up into extra large proportions. 
Elsewhere, the ready-to-wear experiments with new ideas, such as "denim" pieces that are actually leather printed with photo-realistic detailing and button-downs made of the same material. Feather-like explosions of leather fringe appear at shoulders and lining underneath leather skirts (the latter pair beautifully with knit tops in looks that are surely destined for the red carpet). The cut of jackets and coats create interesting shapes, but the tailoring keeps everything grounded in a wearable realm. 
It was an excellent debut for Blazy, imperfections and all (there was perhaps one too many ideas present; while fun, the sheer and sequined dresses towards the end didn't feel like they belonged with what preceded them). While it'll be hard to know how well these looks are received until they hit retail, no doubt Bottega Veneta feels pleased with its decision to hand him the reins. 
See the complete Bottega Veneta Fall 2022 collection in the gallery below: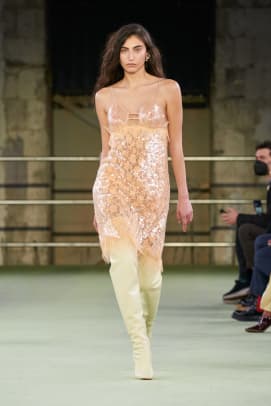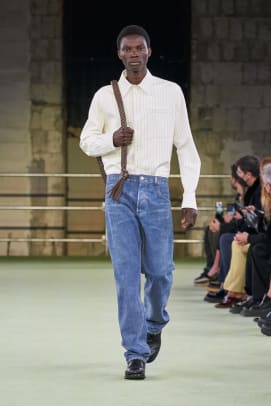 Want the latest fashion industry news first? Sign up for our daily newsletter.