Luminous Diamonds Dazzle on the NYFW Runway For Christian Siriano FW22
Brand muse Coco Rocha closes the show wearing Inner Passion Earrings with rare, fluorescent Luminous Diamonds.

Beloved designer Christian Siriano presented his Fall 2022 collection, called Victorian Matrix, at New York Fashion Week, styling key looks with rare, fluorescent Luminous Diamonds. 
"My FW22 collection let the imagination run free to explore the world we are living in. I accessorized with rare, fluorescent Luminous Diamonds that are inspired by a person's inner light, which formed a perfect compliment to the experimental runway looks" 
This marks the continuation of the partnership between Siriano and Luminous Diamonds, which began through an emerging designer scholarship program with the Fashion Scholarship Fund, the nation's largest nonprofit.
 Luminous Diamonds is the first brand to use the rarest of the rare fluorescent diamonds in its collections while encouraging those who wear the pieces to be true to themselves. Every creation contains fluorescent diamonds, allowing for two designs: one it presents in natural light, and one it reveals under UV light, symbolizing the inner light every person has inside. That inner light is what gives us the strength to pursue ambitions, follow dreams and achieve greatness.
The most eye-catching accessory was the one-of-kind Luminous Diamonds Be Strong bracelet worn by a supermodel and singer Karen Elson, as part of her look at the show. Created with 131 regular and fluorescent diamonds, half of which glow blue, and set in white gold, the statement piece contains two drastically different designs. As all Luminous Diamonds creations, the design of the mesh bracelet incorporates distinct hexagonal shapes in both in the diamonds and the white gold elements.
Coco Rocha closed the show wearing a futuristic gown that summed up the collection's Victorian Matrix theme and the Luminous Diamonds Inner Passion earrings. Representing past, present and future passions, the three Luminous Diamonds® in these earrings are an enduring reminder of the aspirations that drive us forward.
Coco Rocha is also collaborating with Luminous Diamonds on the Design Your Inner Light Challenge organized jointly with the Fashion Scholarship Fund. The challenge winners, who will receive financial awards to put toward their studies, will be announced in April 2022. Christian Siriano is among the mentors for the competition. 
 Learn more about Luminous Diamonds® here.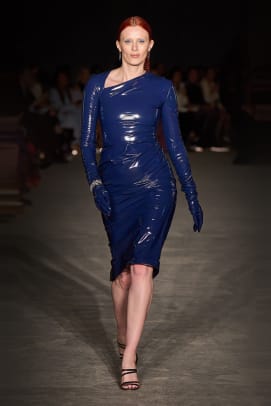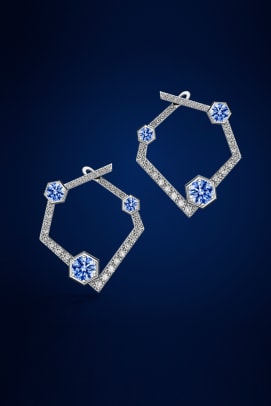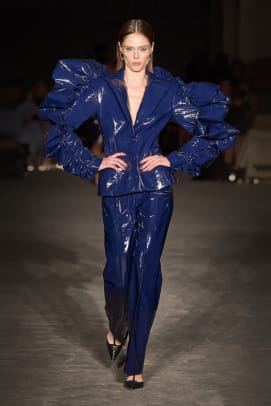 Disclaimer: Product images are enhanced to show effect under UV light.