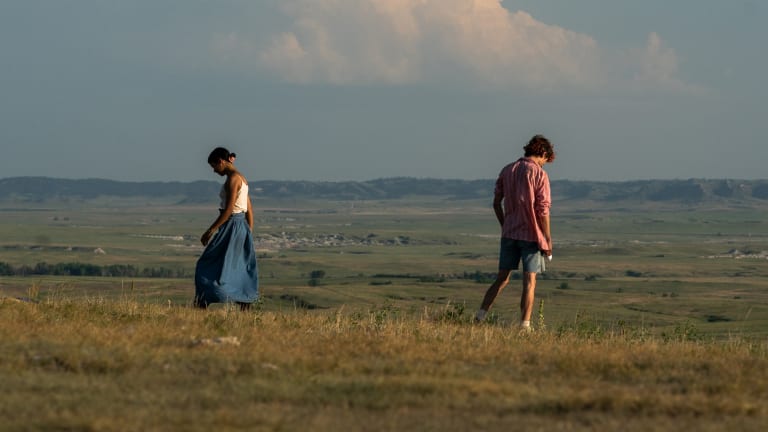 Timothée Chalamet Is a Teenage Cannibal With Good Taste in Fashion in 'Bones and All'
Costume designer Guilia Piersanti reunited with the star and director Luca Guadagnino for the '80s-set film.
Warning: Mild spoilers for "Bones and All" below.
"Call Me By Your Name" director Luca Guadagnino revisits the '80s with his muse, Timothée Chalamet, in "Bones and All," another study of self-discovery and first love. But in a fierce and visceral metaphor for those formative teen years, the film's protagonists connect through a common denominator that makes them feel like outsiders: They're cannibals.
After Maren (Taylor Russell)'s father abandons her on her 18th birthday, she sets off to find her long-absent mother. On the road, she encounters the nomadic Lee, with his tumbling curls highlighted in a DIY-ish red and cut into a wild mullet, and they couple up on a road trip. As forward-thinking and experimental teenagers, they foreshadow the more slouchy, grunge-y '90s with their clothing choices, while their peers stick to the exaggerated shapes and bright colors of the '80s. 
"Call Me By Your Name" costume designer Guilia Piersanti reunited with Guadagnino and Chalamet for the teens' journey traveling long, dusty roads across the country. "The color palette is muted to blend in with the landscape," writes Piersanti, over email. 
She sourced original '80s vintage "from everywhere" for both characters. But, of course, a movie centered around two human-flesh-eating teens involves blood and gore. "So we had to source fabrics to match the vintage pieces, print them with the same flower prints and cut and sew them in multiples to then age them and stain them through the various stages of a fight or eating scene," explains Piersanti.
Ahead, Guadagnino's go-to costume designer discusses key looks and story arcs, as Maren and Lee find each other and themselves.
Lee's 'Borrowed' Wardrobe
Lee and Maren meet cute in Ohio, when an asshole catcalls a woman at a grocery store. Maren immediately jumps to her defense, as does Lee, who ultimately metes out worse a punishment. (He eats the man.) Lee also looks enigmatic and intriguing in an era-bending outfit: Paired with a delicate blue floral shirt, worn open over a ribbed tank, his baggy, low-rider distressed jeans stand out in an era of high-waisted, tapered denim silhouettes.
"[The shirt] is a '30s dress I imagined belonged to an eaten old lady, that he might have found in her closet, and that he cut to fit him as a shirt," says Piersanti. "There is a theme of 'borrowing' clothes in the film." Lee, who travels light, essentially shops the closets of his last meals before he heads to his next destination. 
"I imagined he would mostly wash up and change when at his victims' homes," says Pieranti. "Some victims whom we do not see, I imagined and thought how he would customize these people's 'tokens' to make them his — with his sense of freedom, irony and youth."
Lee excitedly peruses the supermarket harasser's vinyl collection and rocks out to Kiss — it wouldn't be a Guadagnino movie without Chalamet's limber '80s dance moves — and presumably plucks a particularly standout brown Western shirt from his closet (above). "This shirt actually belongs to my personal vintage collection and I love the little flowers and champagne-colored fringes," says Piersanti. Lee also takes the free clothing opportunity to use fashion to explore his own psyche and moods.
"I feel that Lee is the kind of person who probably looks in the mirror and tries on different 'masks' to wear, different styles and expressions to see what fits with how he feels," Chalamet shared in the film's production notes.
Lee's secondhand shopping picks also blur gender-normative lines, which feels quite 2022 — and Timmy, himself, on the red carpet. To take Maren to a pivotal meeting, he wears a soft blue floral cardigan with dainty pearl buttons and, in the film's finale, he's in a '40s-style flower-dotted blouse, with a light fluttery peplum. "Lee borrows whatever he finds useful to his style and need, and his style would not feel the need to conform to sex," explains Piersanti.
Maren's Traveling Clothes
Despondent, Maren leaves the home she shared with her father wearing a late-'80s-style black floral maxi dress, combat boots and an oversize field jacket. The outfit illustrates her unstable childhood — constantly on the run from the aftermath of her youthful, uncontrolled cannibal tendencies.
"Maren always moved around with her father," explains Piersanti. "She has these flower dresses that must have appealed to her as feminine, yet she pairs them with big boots and big sweaters and little girl's tank tops with simplicity and unawareness."
As Maren first embarks on her journey, she wears her dad's "abandoned" waxed utility coat, both as a keepsake and "an emotional rescue blanket." Her capsule series of floaty and gossamer sheer floral dresses reflect "innocence, purity and unaware sexuality." Piersanti took rugged-meets-fragile roadtrip inspiration from films of the era: Sandrine Bonnaire's character in 1985's "Vagabond" and Lisa Bonet in 1987's "Angel Heart."
"The idea for Maren is that she is always unaware of her own beauty and femininity. She doesn't really have a sense of herself, as she grew up without a mother," says the costume designer, imagining that Maren thrifted from Goodwill-type shops with her dad to create her "mix-and-match style." 
Sartorial Soul Mates
Lee's penchant for "borrowing" graceful patterns from his kills and Maren's ethereal dresses, packed in her road trip backpack, also represent a theme. "There are a lot of flower prints to Maren's and Lee's costumes to look as if they're one big bouquet," says Piersanti.
As the duo heads west when the seasons turn from spring to summer, Maren sheds her thick, protective sweaters and her emotional support coat. "She falls in love with Lee, and she becomes less guarded," says Piersanti. "She peels away layers off herself. But even then, she is unaware of what she conveys to others."
Maren transitions into a pared-down denim arc, with a light white tank tucked into a long tie-front jean skirt (top) and a cute romper with front pockets. But, Lee still plays with prints, like a salmon-hued herringbone-and-chain-link-print button-up, paired with his distressed jeans, with exposed knees, now chopped into shorts. 
"Lee doesn't necessarily change much. He still keeps to his individual-slash-outsider style," says Piersanti. "But Maren changes as if trying to blend in with the other students on campus. Her looks are more put together, less savage — and she even wears makeup."
The two eventually decide to try living as "just people," as Maren says, in Ann Arbor, home to University of Michigan. Maren, in more denim, waits tables at a cafe and Lee even cooks what looks like mainstream food, while wearing a collegiate blue-and-white wide-striped shirt — always keeping us guessing.
Never miss the latest fashion industry news. Sign up for the Fashionista daily newsletter.