Goop and Lacoste Basically Re-created Gwyneth Paltrow's 'Royal Tenenbaums' Wardrobe
Their vintage-inspired collaboration is just missing the fur coat and red barrette.
Over 20 years later, the sartorial legacy of Wes Anderson's "The Royal Tenenbaums" lives on. If you watched the visually striking early-2000s movie, you might remember some of the remarkable costume choices. Notably, there's a large amount of sportswear featured throughout the movie, including a particular striped Lacoste polo dress worn by Gwenyth Paltrow that inspired a generation of Margot Tenenbaum Halloween costumes. 
In honor of that very look, Lacoste has partnered with Paltrow's lifestyle and wellness brand Goop on a sportswear collection shot by Osma Harvilahti in Paris. Lacoste X Goop is the combined effort of the heritage fashion-sports brand and the actor-turned-entrepreneur; Paltrow spent time diving into Lacoste's archives to curate the neo-heritage sportswear collection. 
The collab is a nod to Paltrow's wardrobe in the film, but reimagines it through modern shapes and silhouettes. Between striped knee-high socks, mini tennis skirts, polo button-ups, '80s-inspired footwear and crested loungewear, the preppy sportswear aesthetic is strong. 
The limited-edition drop features products ranging from $150 for a T-shirt to $595 for a jumpsuit, and will be available Tuesday, Nov. 15 at goop.com, lacoste.com as well as online and in select Bandier stores.
See the full Lacoste X Goop campaign in the gallery below.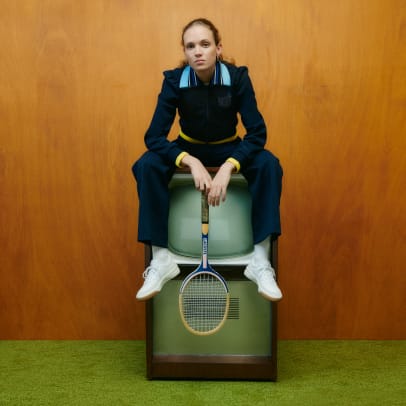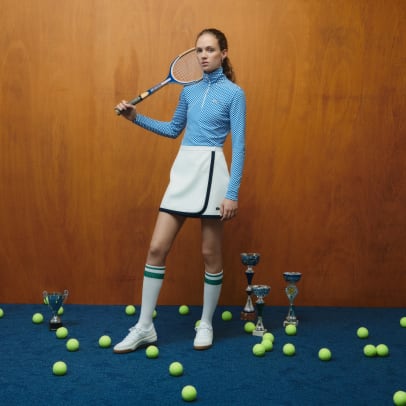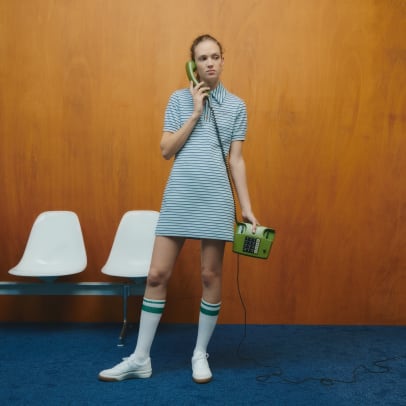 Want the latest fashion industry news first? Sign up for our daily newsletter.