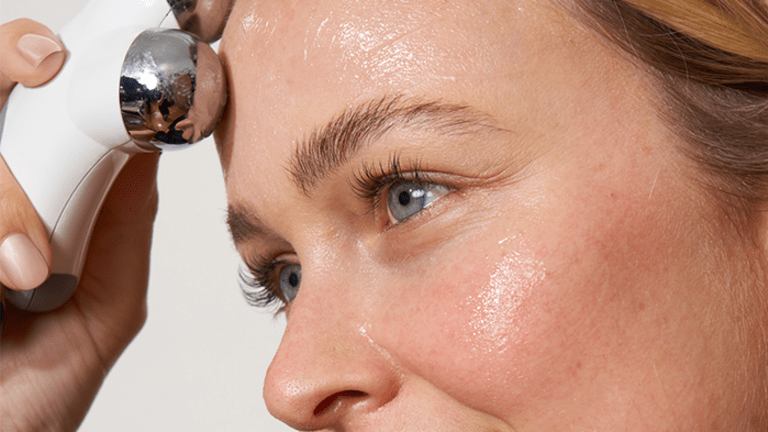 Your Instant At-Home Facelift
Skip the salon and get a 5-minute facelift at home with powerful NuFACE technology.

Black Friday Limited Time Offer: 49% off the NuFace Mini with code: FASHIONISTA
Receiving the celebrity treatment has never been easier with the revolutionary NuFACE Mini Facial Toner. Delivering microcurrent technology worthy of any salon, this petite Aesthetician-Created device promises an instant facelift in literally five minutes. No wonder it's a fan favorite for Jennifer Aniston and Bella Hadid.
Over 85% users noticed improved facial sculpting and 80% experienced smoother skin texture. Pain-free and non-invasive, it's completely portable and travel-friendly. Perfect for weekend getaways or holidays abroad.
How does microcurrent technology work?
If you've ever been for a facial, you've probably been given a microcurrent treatment and not even known about it. That's because of the great toning results these tiny electrical pulses have on your facial muscles. By mimicking your body's natural current, they encourage your muscles to contract and release, effectively strengthening them. These microcurrents then tell your cells to produce more plumping collagen, making your face look and feel even firmer with fewer wrinkles.
Why the NuFACE Mini Facial Toner?
The 'before and after' pictures speak for themselves! With 5-Minute Facial-Lift® technology, this petite microcurrent device is specifically designed to tone, lift and rejuvenate your face. It stimulates your face and neck with FDA-Cleared microcurrents to help drastically improve facial contours, tone, and the appearance of fine lines and wrinkles.
It's like a workout, but for your face! And like any workout – consistency is key. For instant and cumulative results, use the NuFACE Mini five minutes, five days a week. And you can be reaping the transformative rewards within as little as two months. What are you waiting for? Use code FASHIONISTA to save 49% with CurrentBody on the NuFace Mini.