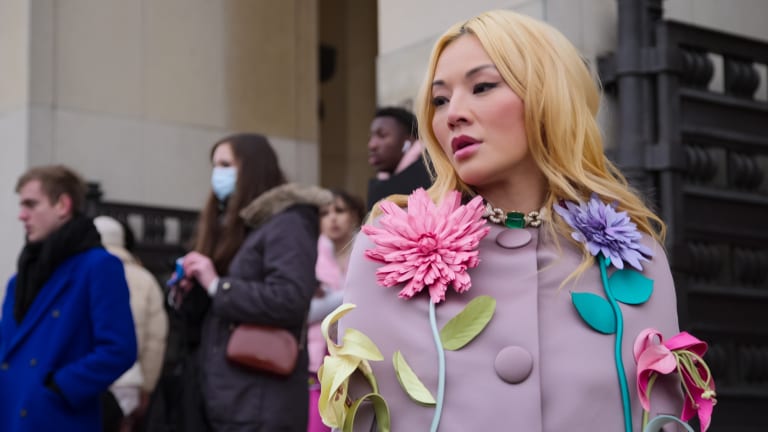 How I Shop: Tina Leung
"My favorite things, I want to keep forever. I want to have a 'Tina Museum,'" says the "Bling Empire: New York" star.
We all buy clothes, but no two people shop the same. It can be a social experience, and a deeply personal one; at times, it can be impulsive and entertaining, at others, purpose-driven, a chore. Where do you shop? When do you shop? How do you decide what you need, how much to spend and what's "you"? These are some of the questions we're putting to prominent figures in our column "How I Shop."
Netflix's latest installment of "Bling Empire" moves the "Crazy Rich Asians"-esque docudrama across the country to New York City — and there's an emphasis on drama, which quickly unfolds at an "Haute Couture Meets Surrealism" party, where, of course, the free-flowing champagne and tragic lack of hors d'oeuvres (and a fashionably late entrance) create a possibly irreparable fissure amongst the new cast of scions, socialites and fashion industry figures. 
That new cohort includes Tina Leung — who actually may have been the only guest to nail the dress code.
"It's Victor & Rolf couture. They sent it from Paris in a huge box," says the street-style favorite, stylist and content creator. "I was thinking, 'Schiaparelli,' but then I was like, 'Everyone's gonna wear Schiaparelli. And I thought, 'Victor & Rolf!'" 
Through her vast industry connections, Leung requested the cheeky Fall 2021 faux-fur coat, covered in opulent oversize embellishments, royal ermine-referential trim and a sash reading, "live like a king queen," for the shoot. Not taking herself too seriously, Leung also relished in a physical comedy moment as she overheated in the fabulous-but-heavy piece, struggling to open a window for some airflow.
On the show, Leung is actually quite low-key in temperament; sometimes serving as the voice of reason and peacemaker to resident shit-stirrers, like "Rich Kids of Beverly Hills" alum Dorothy Wang and jewelry designer Lynn Ban. But she remains sky-high in sartorial personality at all times, even though her on-screen wardrobe choices tended to be last-minute decisions.
"I go with my gut feeling and [consider], 'How do I feel?'" says Leung, who began her career in Hong Kong at society-fashion magazine Prestige before branching out into freelance styling. "[The series shot] during fashion week, so I had some things [borrowed]. I'm close to a few designers, so obviously wanted to represent them, plus AAPI designers."
She's not sure what made it past the crackerjack reality show editors and onto the screen, but Leung recalls a few AAPI designers she hopes to showcase on Netflix: Private Policy by Haoran Li and Siying Qu, Kim Shui, Jason Wu. Obviously, she also wore pieces by fellow members of The House of Slay, a community effort founded by Leung and four other fashion insiders/friends to fight racial discrimination: Prabal Gurung, 3.1 Phillip Lim, Oscar de la Renta and Monse, the latter two co-designed by Laura Kim. (Along with "Rich Kids of Instagram" cast member Ezra William, the "Slaysians" received the CFDA's 2022 Positive Social Influence Award for their activism during the rise of anti-Asian hate crimes across the country.)
Leung prefers not to herself an "influencer" — even though she does quite a few times on-camera. 
"What? Do I talk about influencing stuff?" asks Leung, tentatively. "I'm trying to curate my title, but I guess I said 'influencer' on TV, so..." 
Wait, did she mean to? 
"I don't know if I meant to," says Leung, with a laugh. "I don't really have a filter on my mouth." 
Hey, that does make for optimal reality TV content, right? 
Ahead, the Hong Kong transplant shares how New York City brings out her "kooky" style, what she's impulse-bought recently via Instagram and where she stores her devastatingly enviable aught-y designer wardrobe.
"I'm a little more kooky in New York. In Hong Kong, I would be a little more 'ladylike,' in a sense — even though it does come out and I'm kooky there. I feel like here, I can let it all out and make however many mistakes I want. I don't care. There, I have more eyes on me, like when we went to events and I used to get written up in the tabloids.
"My style changes all the time. Sometimes it can be like an eclectic patchwork of things; other times, I can be sleek, in all black. It changes with my mood, but in New York, I can go a little kookier. It's harder, though, for fashion week, because when you go to the shows, you usually wear the brand. It's harder to mix and match.
"There's this one Taylor Dorry dress [I just bought that feels 'kooky'] — I found her on Instagram. She makes these babydoll dresses from old fabrics she'll patchwork together. I haven't worn it yet because it's not my usual style, but I love it. It's with teddy bears and a huge collar. I would probably wear that with some bright colored thigh-high boots and a big fluffy bright coat.
"I'm more an impulse shopper. But if there's something I see on the runway that I'm still thinking about months later, I text my S.A. and ask, 'Do you have this in?' I do a lot of impulse shopping in the middle of the night on Instagram from smaller brands, like Taylor Dorry, Mia Vesper and Aries. I bought a whole outfit from Aries, plus matching tights, and a whole bunch of stuff from Miaou the other day. 
"Ads really work on me. If an ad comes up or if a friend's wearing this thing that I want to wear, I'm like, 'Okaaaaay.' If it's sales and I'm in Europe, I go Dover Street Market — that's my favorite store. And Bergdorfs. I just splurge in these bursts, then I stop. Then I splurge. That's impulse, I guess.
"I recently went to a vintage store in Palm Beach. I said that I wasn't going to spend any money until January — and then I spent a lot of money. But there were so many amazing pieces. There's a yellow Bill Blass jacket and skirt suit with this weird print. And I got Oscar de la Renta skirts with the label looking super old. I texted Laura [Kim] and Fernando [Garcia, the current creative directors], like, 'Is this before your time? This looks so old.' And she'd tell me stories. 
"I got a Valentino gown and some Prada. Oh! A Prada dress I'm wearing right now. So many good things. And this pink Yves Saint Laurent Encore suit with rhinestone buttons. [Note: Yves Saint Laurent Encore was a diffusion line launched in 1993 for the U.S. market.] That was interesting. 
"One of my favorite vintage pieces is this pink-and-red kimono; just the outer piece of the kimono. It's in my Hong Kong storage right now. It's so beautiful. I got it in London at Spitalfields Market, when Spitalfields was really grungy and not many shops. Now it's so shiny.
"I have a Hong Kong apartment, and I never went back. I moved here and thought I'd be between New York and Hong Kong, but then the pandemic happened. My mom was renting it out, and she moved all my old stuff into a storage unit. My first Chanel bags are there. My old Prada bags. My Gucci by Tom Ford. My YSL Tom Ford. This gown I bought from Cavalli. I treated myself with one of my bigger paychecks ages ago. Lots of gowns are there, because Hong Kong has so many balls. I need to move it over at some point. 
"I donate [what I don't wear anymore]. I give to my sisters and also [consign through] The RealReal. But my favorite things, I want to keep forever. I want to have a 'Tina Museum.' Anna Dello Russo has a whole other apartment for her stuff, and she archives it so precisely. I would love that one day. I don't think I can do it here [in New York City] because of the space."
This interview has been edited and condensed for clarity.
Never miss the latest fashion industry news. Sign up for the Fashionista daily newsletter.