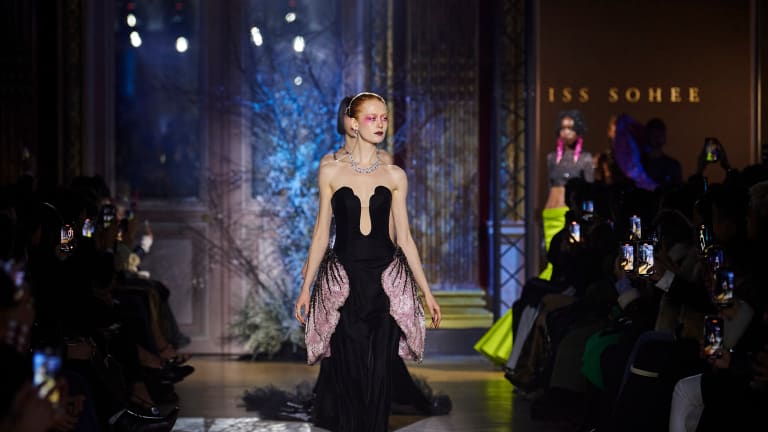 Miss Sohee Brings Its Art of Embellishment to Haute Couture for Spring 2023
The London-based South Korean designer presented her latest collection in Paris.
Sohee Park, the London-based South Korean Central Saint Martins alum has garnered worldwide recognition for her brand, Miss Sohee, and its designs, which often involve intricate, meticulous embroidery in vibrant colors on sharp silhouettes. Season after season, the results are as forward-thinking as they're jaw-dropping, regal as they're ethereal. They've graced the pages of magazines, walked up the steps at the Met Gala and appeared on stage at a Blackpink concert. 
Now, Miss Sohee's going big league.
The brand presented its Spring 2023 collection in Paris during the haute couture shows. And the 23 looks revealed on the runway emphasized what the brand brings to the conversation: undeniable elegance, with a touch of surrealism — looks that are rich, in every sense of the world.
Park has long described her work as couture, due to her philosophy around only using what's needed and commitment to not overproducing. And Miss Sohee's past collections have been described as such time and time again. It makes sense for the brand to step onto this stage and take its work to Paris. 
(The brand wasn't on the official calendar. Haute couture is an official accreditation issued by France's Chambre Syndicale de la Couture; however, the term is often employed to describe work that's one-of-a-kind and made with exceptional craftsmanship.) 
It's also a smart move for Miss Sohee to show amid the flurry of new haute couture collections, with awards season in full swing. It's a good signal for celebrities that have received the coveted red-carpet invite, but are looking for something a little less expected — Miss Sohee's right here and ready for the spotlight.
See every single look from Miss Sohee's Spring 2023 collection.
Want the latest fashion industry news first? Sign up for our daily newsletter.