Prada's Idea of Romance is Dark, Twisted and Sinister for Fall 2019
And that's exactly what we would expect.
Arriving at the Fondazione Prada on Thursday night was quite serene. The venue for Miuccia Prada's seasonal shows was illuminated against the sunset in Milan, and inside, it was dimly lit with large, glowing light bulbs spread out across the center of the floor. Ambient music — the type you'd doze off to at a spa — filled the room while guests nestled into their seats, which were lined with surprisingly comfortable acoustic foam. The soundproof material also covered the sides of the catwalk. What was the point to all of this soothing ambience?
Well, things took a turn. Booming techno — the type you'd watch cybergoths dance to on YouTube — pulsated through the room as a single spotlight shined on the opening model, her Wednesday Addams braids and the first look: a black strapless dress with metal hoops around the waist and matching chunky, knee-high platform boots, peppered with tiny change purses along the sides. The theme for Fall 2019 is an "Anatomy of Romance" and Prada's take on the subject is dark, twisted and sinister — in other words, it's exactly what we would expect. 
"Instinctively, I go the opposite way to consensus," said Prada in a recent interview with Tim Blanks for Business of Fashion ahead of the show. "I'm deeply against cliché or the usual or what everybody else does."
Sure, there were rosettes adorning dresses and satin handbags, sparkling ruby slippers and lots of lace, but these seemingly romantic details were juxtaposed with something unexpected, like said chunky boots or, for example, a piece of military-inspired outerwear with arms which looked like they were pulled straight from a bomber jacket, paired with a lace skirt. "The interplay between different dichotomies, between dualities of materials and approaches, natural and man-made, here convey a suggestion of two lovers meeting, two halves to one whole," read the show notes.
While dark romance as a sartorial theme is too-often referenced by designers, that won't stop Prada's loyal consumers from buying into it. (Though, a string of looks that teetered towards TikTok E-Girl cosplay seem questionable.) And there were plenty of accessories with high commercial potential, such as the brand's famous flame wedges now replaced by pumps with lightning bolts, satin handbags, dangling floral earrings and a pair of clunky, lug-sole loafers with gold buckles, perfect if combat boots aren't exactly your thing. For more casual wardrobes, the sport-meets-military garments and hiking-style sneakers from Prada's Linea Rossa range will fit right in. 
The Halloween and horror-obsessed will likely be drawn to a dress worn by Cara Delevingne, emblazoned with Frankenstein and his Bride — a nod to Prada's Fall 2019 collection for men. How romantic.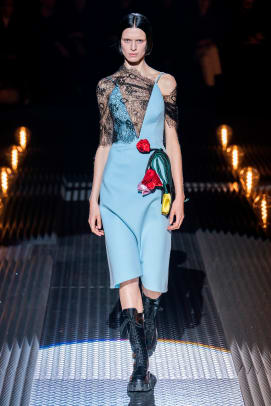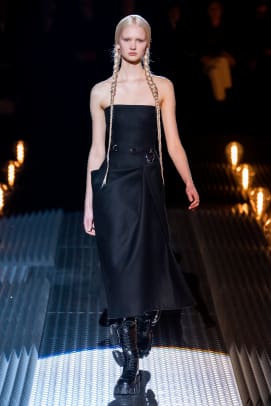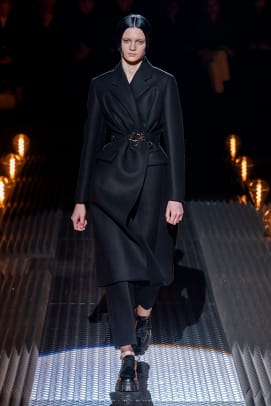 Stay current on the latest trends, news and people shaping the fashion industry. Sign up for our daily newsletter.