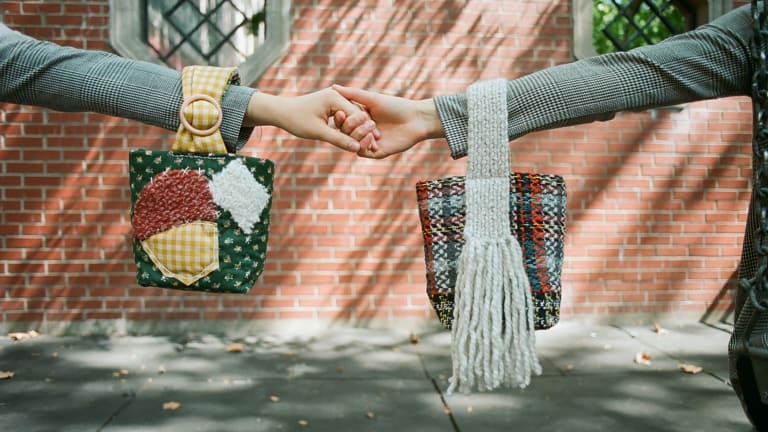 Chippy Is the New Brand Turning Nostalgia Into Handmade, One-of-a-Kind Accessories
Since each item is limited edition and made from vintage materials, designer Allison Stefanoni's products feel entirely unique.
As the daughter of a mother working in the fashion industry, Allison Stefanoni developed an interest in fashion at a young age: At 12 years old, she taught herself to sew, and by the time she turned 14, Stefanoni had created a full-blown handbag line on her own that she sold at local craft markets in New York City. During high school, she started taking classes at the Fashion Institute of Technology on weekends and completed 16 different courses before she even received her high school diploma.
Stefanoni then went on to attend FIT for college, but chose to major in international fashion business management, knowing that a business degree would serve her well, regardless of what she ended up doing after school. Throughout college and immediately after, Stefanoni took on countless passion projects, such as planning creative events for her friends and designing a line of iron-on patches that she sold through Instagram. These ventures eventually helped pave the way — both financially and creatively — for Stefanoni to start her latest project: Chippy, a line of handmade, one-of-a-kind accessories.
RELATED ARTICLES
Stefanoni, now 23 years old, launched Chippy in June 2018 with a small release of summer-friendly bags made completely by hand, digging deep into her personal collection of vintage and archive designer fabrics. The theme for Chippy's debut was all about creating the bag she always wanted as a kid, but one which also fits within her current, early-adulting lifestyle. Stefanoni transformed market bags that she found through a vendor in the U.K. and drew inspiration from gummy candies, sticker books and summer picnics. Each item was handwoven as she tied strips of fabric, mainly gingham, through the structure of every embellished bag, which also featured a removable lining and the ability to lay flat — ideal for the customer who craves versatility. 
Once the collection sold out, Stefanoni quickly launched a second one, inspired by old vacation postcards. She added new embellishments and more complex functionality, such as drawstrings handkerchief ties. Additionally, she launched patterned scrunchies, another nod to her love for nostalgia.
Chippy's latest collection for fall, titled "Afterschool Special," pays homage to the "perfect" 1970s town from Stefanoni's imagination, where school children dress in plaid and cozy knits, carry tin lunch boxes and eat Pop-Tarts while watching television. Items include hand-stitched and quilted bucket totes that are patched with swatches of bouclé, knits and lambskin. The collection's fanny packs and drawstring bags are entirely patch-worked, utilizing the remaining fabric from the other bags. Going one step further, the hand-knit handles throughout the collection offer an element of texture and serve to elevate the pieces. "There is a lot going on, in the best way possible," says Stefanoni.
With vintage fabrics, luxe textures and intricate details, Stefanoni sees each bag as its own work of art and a reminder of places and memories from her childhood. When asked about her ideal customer, Stefanoni says it's herself, her friends and the "Iris Apfel-esque women" she sees strolling through the West Village. "The Chippy customer is young at heart, lives in an apartment filled with art and books, loves to collect things, sings along to old and new music and dresses to tell a story," she reveals.
When coming up with ideas, Stefanoni likes to live in the story she creates. "My outfits, the music I listen to, the shows I watch and even the things I eat are on theme," she says. With all of this manifestation, the designs for new handbags come to her naturally. Once she has a general idea of what the collection will consist of, she makes patterns and samples and buys remaining fabric from secondhand stores and vintage fairs, even diving deep into her grandmother's attic. Then, she begins sewing and allows the collection to morph into whatever it wants to be, making sure to trust her creative process and not force anything. If fabrics or patterns don't seem to be working the way she initially envisioned, she ditches them for something else.
While each bag takes anywhere from 24 to 36 hours of manual labor, Stefanoni also taps into her network, like her close friend, Aleks Gosiewski, a fashion designer with formal training, who lends a hand whenever necessary. During all phases of her creative process, she also works with her art director and photographer, Tina Nguyen, who contributes ideas for the handbags, making suggestions based on what she's currently into and what she feels is missing from the market. Stefanoni says it's these relationships that make the brand feel like a deeply personal pursuit.
Instead of over-planning the label, Stefanoni keeps things organic: Unlike most accessories brands, she doesn't plan an exact number of products for each collection. Instead, she edits and reworks the collection to her liking up until the morning of the photo shoot. From there, Stefanoni and her team photograph whatever has been completed and feels right. The shoots are equally important to building the Chippy brand, as Nguyen captures Stefanoni and her friends in their own clothes, along with the latest collection, on film, which adds another element of surprise and authenticity.
For Stefanoni, Chippy is a platform that allows her to tell quirky stories through accessories, in hopes to stir real emotions in people. "In the end, the products are just props that aid in the storytelling," she says. Since each item is limited edition, one-of-a-kind and handmade using vintage materials, her products feel entirely unique, unlike the disposable nature of the fashion industry. In fact, Stefanoni believes fashion should be created, viewed and purchased like art. "In many ways, I've disregarded archaic fashion production cycles by simply doing things when I feel inspired to and going about them my own way," she says. "There is something special about the slow fashion movement. There is a higher level of creativity, quality and individualization. As a result, production is cleaner, waste is less and value increases."
Currently, Chippy is sold exclusively on itschippy.com. When it comes to launching the next collection, Stefanoni admits she doesn't have a set plan. Instead, she will release the it when she feels that the products are strong and the story is clear and complete. In everything that she does, Stefanoni aims to stay true to who she is and firmly believes in the power of trusting her own artistic journey.
Sign up for our daily newsletter and get the latest industry news in your inbox every day.