Say Goodbye to Gucci's 'Guccification' Come Spring 2020
Creative director Alessandro Michele is ready for a change.
Gucci closed out Milan Fashion Week on Sunday, a schedule switch-up from previous seasons, as creative director Alessandro Michele traditionally kicks off the string of shows in Italy's fashion capital. But a new time slot was nothing compared to what's ahead for the luxury brand: Come Spring 2020, it's time to say goodbye to Gucci's "Guccification," a style often characterized as "ugly," with undeniably strong selling power that Michele has been enforcing since his runway debut in 2015. 
And after nearly five years, it's no surprise that Michele is ready for a change. In an interview with WWD ahead of the show, he offered insight as to why: "I'm not bored from my job. I'm not bored by the energy that pushes me to be creative. But I'm bored in a way from the idea that I don't want to fall into [excessive repetition]. I'm not obliged to go ahead exactly with the same aesthetic. I mean, for sure it's me, so there is always a clear sign of my presence in the company. But at this point, I'm pretty energized, because I feel that I have to move on in other [directions]."
From a business perspective, this pivot was inevitable. Despite Gucci's success, Kering reported slower-than-expected growth for the brand in July. A new look might have been a creative impulse for Michele all along, but it's hard to deny that Gucci's transition stems from the need to, you know, make money.
The venue for the Spring 2020 runway show was much smaller than last season, and set up similarly to the label's Fall 2018 presentation. As attendees arrived, the room glowed red from the lights shaped like Florentine stars; the catwalk was actually comprised of four moving walkways. When the show began, the lights turned bright white, transforming the room into a sterile space. For the first 21 looks, models wore completely beige and ivory looks, almost resembling straitjackets. They stood on the moving walkway, sometimes in plain sandals or even entirely barefoot. While Michele described this show prologue as a form of "eliminat[ing] self-expression," we saw it as a refreshing palate cleanser. After this initial offering, suddenly, the show music short-circuited and the room went dark. As the lights came back on and the next set of models started to appear, a new Gucci had officially arrived.
Gone were the outfits comprised of multiple prints, hodgepodge layering and extravagant accessories. In their place, Michele displayed a lineup of pieces that were more refined, polished and "orgasmique" — as the collection is titled. The designer told WWD that he turned to the '90s for inspiration, looking specifically to designers Tom Ford (who defined Gucci's sex-fueled era when he was at the helm from 1994 to 2004) and Miuccia Prada. "What happens if one of my girls should try to be sexy and contemporary?" he asked. Turns out the answer to that involves sheer dresses or skirts, high slits, revealingly low necklines and references to BDSM. (Some models carried whips and floggers as though they were everyday handbags.)
Dominatrix aesthetics aside, it was an overall tame — and heavily tailored — collection. Logos and monograms covered a handful of the pieces, and there were a few quirky motifs, such as seashells, paisley and (again) polka dots. Of course, Michele's design roots remained present: The collection had a strong vintage vibe and quirky accessories, like oversize sunglasses linked with chunky chains. And much like in other Spring 2020 collections, sequins made a cameo, too. So will fans of Gucci's "Gucciness" buy into Michele's "Orgasmique"? We'd bet on it.
See every look from the collection in the gallery below.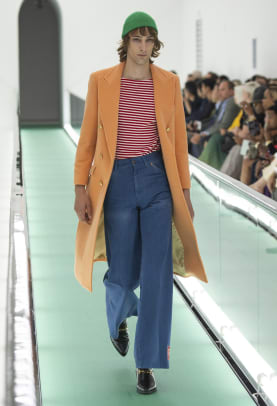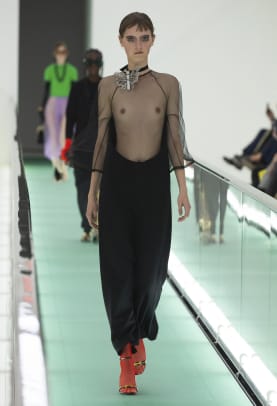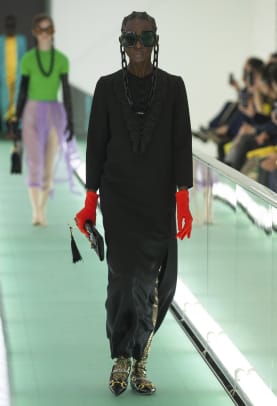 Stay current on the latest trends, news and people shaping the fashion industry. Sign up for our daily newsletter.